Élaboration d'un plan de gestion du patrimoine végétal des abords des canaux Toulousains
A few years ago, the city of Toulouse decided it was going to grow into setting an example in matters of sustainable development. This implied using ''eco-management'', a maintenance method for green spaces which is meant to be better on economical, ecological and social standards. The city's territory is crossed by the ''canal des deux mers'', an exceptional site, part of which is registered as UNSECO world heritage. However, the trees flanking the canal from Sète to Castelnaudary, one of the key elements of the canal's image, are infected by the colored canker, a disease that usually kills a tree in a matter of months, and cannot be cured. No case of colored canker has been notified in Toulouse yet, but it seems it is inevitable that it will come someday. This document presents the elaboration of a management plan whose goal is to define both the proper management for the canal's bank and which measures should be taken to prepare for the canker's arrival. This study is constituted of a diagnosis which analyses qualitatively and quantitatively the canal's actual situation and concludes defining some management objectives. Follows a presentation of the different management tools created to reach those goals.
Depuis quelques années, la ville de Toulouse a décidé de devenir exemplaire en matière de gestion durable. Ceci passe par la mise en place de l'éco-gestion, un mode d'entretien des espaces verts qui se veut économique, écologique et social. Le territoire de la ville de Toulouse est traversé par le canal des deux mers, site historique d'exception dont une partie est inscrite sur la liste du patrimoine mondial de l'UNESCO et classée au titre des sites et paysages. Cependant, les alignements de platanes qui bordent le canal des deux mers entre Sète et Castelnaudary, éléments forts de l'image du canal, sont atteints par un véritable fléau : le chancre coloré, une maladie qui tue les platanes en quelques mois et qui n'a encore aucun remède. Aucun cas de chancre coloré n'a été mis en évidence à Toulouse, mais son arrivée semble inévitable. Ce document présente l'élaboration d'un plan de gestion dont le but est de définir la gestion adéquate à mettre en place sur les berges du canal des deux mers sur le territoire de la ville de Toulouse et de préparer au mieux l'arrivée du chancre coloré. Cette étude se compose d'un état des lieux qui analyse qualitativement et quantitativement la situation actuelle de ces canaux et aboutit à la définition d'objectifs de gestion. S'ensuit une présentation des différents outils de gestion qui ont été mis en place afin d'atteindre ces objectifs.
Fichier principal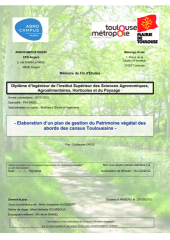 2013_Gros_Guillaume_Elaboration_plan_gestion_patrimoine_vegetal_canaux_toulousains.pdf (13.7 Mo)
Télécharger le fichier