Référentiel technico-économique des exploitations arboricoles biologiques de la région Provence-Alpes-Côte d'Azur
The Agriculture French Ministry, Mister Stéphane Le Foll, announced in the "Ambition Bio 2017" program, French intentions to double organic agriculture areas until four years. For the French region "Provence-Alpes-Côte d'Azur" (PACA), the objective is to reach 28% of organic areas till 2017. To accomplish that, it's important to maintain organic areas and to facilitate organic conversions. We must write references about technical and economic approaches of the exploitations in order to help producers. Organic channel study is one of the missions of Bio de Provence (the Organic Regional Federation) which wish to realize technical and economical references for organic arboriculture network. In order to acquire these references, a survey was done with forty fruits-growers spread over the entire PACA's region. This report presents the approach followed and the main results obtained. A typology about the organic arboriculture exploitations in PACA was done in order to compare the different exploitation types present in all this territory. It separates the exploitations in function of the orchard areas and the commercial circuits followed (short or large). A synthesis of the difficulties met by the fruit grower is presented. Solutions to reduce exploitation charges (labor, treatments and fertilization) are proposed. To finish, fruits sales are also discussed.
Stéphane Le Foll, Ministre de l'Agriculture, a annoncé dans le cadre du programme Ambition Bio 2017, l'intention de doubler les surfaces en agriculture biologique d'ici quatre ans. Pour la région Provence-Alpes-Côte d'Azur (PACA), l'objectif est d'atteindre 28% de surfaces biologiques en 2017. Pour y parvenir, il est important de maintenir les surfaces biologiques et de favoriser les conversions. Des références technico-économiques doivent être rédigées afin d'aider les producteurs. L'étude des filières biologiques fait partie des missions de Bio de Provence (la Fédération Régionale d'Agriculture Biologique) qui a souhaité faire un référentiel technico-économique pour la filière arboricole biologique. Afin d'acquérir ces références, une enquête a été réalisée auprès de quarante arboriculteurs biologiques répartis dans toute la région PACA. Ce mémoire présente la démarche suivie ainsi que les principaux résultats obtenus. Une typologie des exploitations arboricoles biologiques de PACA a été réalisée afin de caractériser et de comparer les différents types d'exploitations présentes sur ce territoire. Elle est principalement basée sur la surface en verger et les circuits de commercialisation (courts ou longs) des exploitations. Une synthèse des difficultés rencontrées par les arboriculteurs est présentée, suivie de solutions leur permettant de réduire les principales charges d'exploitation (main d'œuvre, traitements, fertilisation). La valorisation de la production est également abordée.
Fichier principal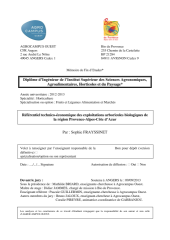 2013_FRAYSSINET_Sophie_Referentiel_technico-economique_exploitations_arboricoles_biologiques_PACA.pdf (4.66 Mo)
Télécharger le fichier