Aménagement de rivière en ville : concilier un bon fonctionnement hydraulique et des pratiques raisonnées de la rivière
For some ten years more and more cities are trying to rebuild a link between water and urban areas, because they worry about environmental matters and they wanted to meet the "nature" need of inhabitants. This launched banks recapturing projects are supervised by management tools, which exist at different scales, but always for the sake of preserving the biodiversity, of protecting water resources and offer to men a calmed connection with water. In the case of the planning of the river Colmont in Gorron objectives are to facilitate uses of the river, which are slown by dense vegetation or rare accesses, and to favour a good water flow. With the help of the diagnosis in Gorron we can consider several planning solutions for the river Colmont, in wildest or more urban spaces. A well-reasoned rivers management , which follows government management tools, can protect landscapes and biodiversity while offering well-reasoned maintenance solutions for urban areas.
Depuis quelques dizaines d'années, de plus en plus de villes cherchent à reconstruire un lien à l'eau en milieu urbain, par souci des problèmes environnementaux ou pour répondre à un besoin de retour à la "nature" de la part des habitants. Les projets de reconquête des berges alors lancés sont encadrés par des outils de gestion qui se déclinent à différentes échelles, mais toujours dans un souci de préserver la biodiversité, de protéger la ressource en eau et d'offrir aux hommes une relation apaisée à l'eau. Dans le cas du réaménagement de la rivière Colmont à Gorron (53), les objectifs sont à la fois de faciliter les usages autour de l'eau, qui sont freinés par une végétation dense ou des accès rares, et de favoriser un bon écoulement de l'eau. Le diagnostic effectué sur Gorron permet d'envisager toutes sortes de solutions pour réaménager la rivière Colmont, que ce soit dans sa partie plus sauvage ou urbaine. Une gestion raisonnée des rivières et cours d'eau suivant les outils de gestion mis en place le gouvernement permet de protéger les paysages et la biodiversité des rivières, tout en offrant des solutions d'entretien raisonnées pour les zones urbaines.
Fichier principal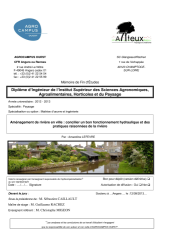 2013_LefA_vre_Amandine_Amenagement_riviere_ville.pdf (7.37 Mo)
Télécharger le fichier