Intégrer les principes agro-écologiques dans la conception d'un parc urbain, pour une approche écosystémique de la nature en ville. Le cas du futur parc Nelson Mandela à Saint-Priest (69)
Since European cities reassess their relationship to nature and territory, agroecology seems to bring substantial solutions to develop a sustainable agriculture, matching agricultural development and environmental protection. Possible applications of agroecological principles in urban planning are highlighted throughout this dissertation. For the forthcoming Nelson Mandela Park in Saint-Priest (France) the goal is to achieve a new frame of urban nature by integrating both social issues and major preoccupations. The urban park opens up perspectives at the scale of the territory and highlights the importance of concidering different levels of co-construction in urban projects. Therefore planning for modern cities must integrate a new way of designing urban or rural projects by promoting new landscapes both productive and flexible. Thus, they become the driving force of sustainable urban development and initiate new aesthetics.
À l'heure où les grandes villes européennes remettent en question leur rapport à la nature et au territoire, l'agro-écologie semble apporter des réponses de fond pour le développement d'une agriculture durable, associant le développement agricole à la protection de l'environnement. Ce mémoire s'attache à mettre en évidence les applications possibles des principes agro-écologiques dans l'aménagement de l'espace urbain, à travers le projet de paysage. Ainsi, l'approche écosystémique développée pour le projet du futur parc Nelson Mandela à Saint-Priest (69) a pour ambition d'esquisser une nouvelle forme de nature urbaine, intégrant à la fois attentes sociales et enjeux globaux. Ce projet de parc urbain ouvre des perspectives plus larges à l'échelle du territoire et met en évidence l'importance d'une co-construction du projet urbain à différents niveaux. La réflexion sur la ville contemporaine passe ainsi par une nouvelle vision des projets urbains et agricoles, en défendant la possibilité d'inventer de nouveaux paysages à la fois productifs et ouverts à d'autres usages, devenant ainsi porteurs de développement urbain et initiateurs de nouvelles esthétiques.
Fichier principal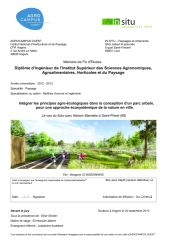 2013_Le_Bissonnais_Morgane_Integrer_principes_agro-ecologiques_conception_parc-urbain.pdf (15.04 Mo)
Télécharger le fichier