Développement durable et territoire : exemple de la démarche d'aménagement du Conseil Général du Maine-et-Loire sur le territoire du Val de Loire
Development projects as one of the General Council of Maine-et-Loire, are territory projects which aim at integrating sustainable development. So in its approach of development, the General Council analyzed specific stakes of Val de Loire. They are environmental, patrimonial, touristic and esthetic. They allow to define the objectives of the Loire Développement Durable approach. This approach is drawn on the territorial scale with key projects like the touristic Road of the Loire. This road is thought on a territorial scale and with multiple actors. However it also drawn on the local scale, in particular by means of the stop areas, to answer to local sustainable stakes.
Des projets d'aménagement comme celui du Conseil général du Maine-et-Loire sont des projets de territoire qui visent à intégrer le développement durable. Ainsi, dans sa démarche d'aménagement, le Conseil général a analysé les enjeux propres du site d'étude, le Val de Loire. Ces enjeux à la fois environnementaux, patrimoniaux, touristiques et paysagers ont permis de définir les objectifs d'aménagement au sein de la démarche Loire Développement Durable. Cette dernière est dessinée à l'échelle du territoire grâce à des projets phares tel que l'itinéraire touristique de la Route de la Loire. Cet itinéraire est travaillé à une échelle territoriale et avec des acteurs multiples. Cependant, il est aussi conçu à une échelle locale, notamment par le biais des aires d'arrêt, afin de pouvoir répondre aux enjeux locaux du développement durable.
Fichier principal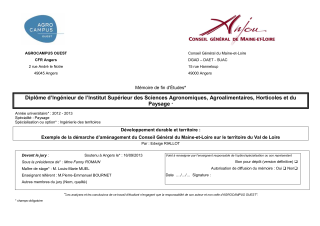 2013_RIALLOT_Edwige_Developpement_durable_territoire.pdf (6.79 Mo)
Télécharger le fichier