Servitudes et expertise (judiciaire ou amiable) du géomètre-expert
Easements are constraints established on a plot of land for the use and utility of another plot. They infringe on the right of property and are the cause of litigations between private individuals. The land surveyor's technical opinion is often requested for problems regarding easements, whether it is within the framework of an amicable or judicial expertise. Consequently, what questions might we ask ourselves in the face of an easement? Some easements have particular characteristics, what are they? Finally, how do easements established in the public interest differ from the ones established for private interests, and what complications could their management generate? The objective of this dissertation is to provide some answers to questions that land surveyors could be faced with, and more generally, that any person could be faced with.
Les servitudes sont des charges établies sur un fonds pour l'usage et l'utilité d'un autre fonds. Elles portent atteinte au droit de propriété et sont à l'origine de litiges entre particuliers. L'avis technique du géomètre-expert est souvent sollicité pour des problèmes liés aux servitudes, que ce soit dans le cadre d'une expertise amiable ou judiciaire. Aussi, quelles questions se poser face à une servitude ? Certaines servitudes présentent des caractéristiques particulières, quelles sont-elles ? Enfin, en quoi se distinguent les servitudes d'utilité publique de celles constituées pour des intérêts privés, et quelles problématiques peuvent engendrer leur gestion ? Ce mémoire a pour vocation d'apporter des éléments de réponses aux questions auxquelles peuvent être sujets les géomètres-experts, et plus généralement toute personne susceptible d'être confrontée un jour à une servitude.
Fichier principal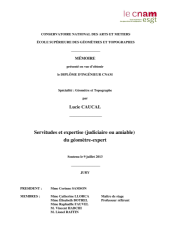 CAUCAL_Lucie.pdf (5.06 Mo)
Télécharger le fichier
TFE_2013_CAUCAL_Annexes.pdf (1.58 Mo)
Télécharger le fichier