Les Mesures Agro-Environnementales territorialisées : un levier pour une gestion durable et concertée des espaces agricoles ? Cas du département de la Loire
"Territorial Agro-Environmental Measures" (TAEM) are measures which pay farmers in exchange of agricultural practices related to environmental challenges of territories (mainly related to Natura 2000 and Water Framework Directive). In the Loire department, TAEM are implemented on 10 territories by TAEM facilitators, who work for agricultural and/or environmental organisms. The strong dialogue between stakeholders in this department is innovative. It's interesting to study what are the benefits and costs of such an approach. Our study tries to answer the question "What are the territorial's impacts of a consultative approach to establish TAEM?" It is based on the case of Loire department. Stakeholders were consulted: Farmers replied to questionnaires, facilitators and financial officers were interviewed. These tools have permitted to collect the methodological aspects of the TAEM implementation, and to gather each stakeholder's opinion on the measures. Geographical and financial analyses supplement the results of this survey. Key-points have been raised by this study. A collective work history facilitates consultation. Diversification and intensification of the stakeholder's network enables the implementation of broader territorial actions. The environmental impact of these measures is low but allows the persistence of good agricultural practices. Beyond that, it increases the farmers' awareness of the environment. The subsidies for animation and monitoring are justified by the long-term effectiveness, because it reduces transaction costs. The coordinated development of sustainable TAEM allows sustainable territory-adapted dynamics and the recognition of good agricultural practices. Coherence should continue to an extra-territorial level.
Les Mesures Agro-Environnementales territorialisées (MAEt) sont des mesures rémunérant les agriculteurs en échange de pratiques agricoles répondant aux enjeux environnementaux identifiés sur un territoire (principalement dans des zones Natura 2000 ou protégées au titre de la Directive Cadre sur l'Eau). Dans la Loire, les MAEt sont mises en place sur 10 territoires par des animateurs MAEt, appartenant à des structures agricoles et/ou environnementales. La forte concertation entre les acteurs dans ce département est novatrice. Il est donc intéressant d'étudier quels sont les bénéfices et les coûts d'une telle démarche. Notre étude a tenté de répondre à la question "Quelles sont les impacts territoriaux d'une démarche de mise en place concertée des MAEt ?", en prenant le cas du département de la Loire. Les acteurs ont été mobilisés lors de questionnaires (pour les agriculteurs) et d'entretiens (pour les animateurs et les financeurs). Ces outils ont permis de recueillir les aspects méthodologiques de la mise en place des MAEt et les opinions de chacun sur le dispositif. Des études géographiques et financières ont complété les dires d'acteurs. Des points importants en sont tirés. L'historique de travail collectif facilite les concertations. La diversification et la densification du réseau d'acteurs permet de mettre en place des actions territoriales plus larges. Les impacts environnementaux sont faibles mais permettent un maintien de bonnes pratiques et une sensibilisation des agriculteurs. La subvention de l'animation et du suivi se justifie par l'efficacité à long terme, car cela réduit les coûts de transaction. La mise en place concertée de MAEt permet donc des dynamiques durables, adaptées aux territoires, et une reconnaissance des bonnes pratiques agricoles. La cohérence doit se poursuivre à une échelle extra-territoriale.
Fichier principal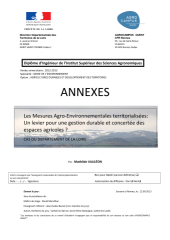 2013_VaulA_on_Mathilde_Annexes.pdf (4.25 Mo)
Télécharger le fichier
2013_VaulA_on_Mathilde.pdf (1.45 Mo)
Télécharger le fichier