Memoria y silencio en la Transición, a partir de la Ley de Amnistía de 1977
The Spanish transition was considered at first to be a success, in particular due to the political consensus between the different parties and renewed freedom. Despite everything, those who had committed offences were never convicted and political prisoners were set free so permitting a national reconciliation in a democratic and peaceful country. Those who were defeated were forgotten and the past gradually put aside leaving people who had been victims of these tragic events with deep open wounds. During the last few decades a question has arisen: should one forget the past or try to come to terms with it? New generations, to whom these events are history, feel a need to rehabilitate the memory of their ancestors, a memory partly restored, too late.
La Transición española fue considerada, en un primer momento, como lograda especialmente gracias al consenso político entre los diferentes partidos y a las libertades reencontradas. A pesar de todo, los que cometieron delitos jamás fueron condenados y los presos políticos salieron libres de la cárcel, permitiendo así una reconciliación nacional en un país democrático y pacífico. La memoria de los vencidos no estaba presente y el pasado, poco a poco, se puso de lado dejando abiertas profundas heridas. Desde las últimas décadas, una pregunta surgió: ¿había que olvidar o asumir el pasado? Las nuevas generaciones, lejos de todos esos acontecimientos, quieren rehabilitar la memoria de sus antepasados, una memoria rehabilitada en parte y demasiado tarde.
Fichier principal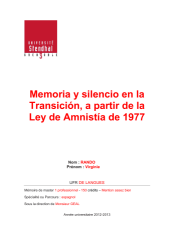 RANDO_virginie_M1PLC_Etudes_iberiques_et_ibero_americaines_2013.pdf (1.04 Mo)
Télécharger le fichier