Restriction hydrique et débourrement : étude du dialogue entre l'acide abscissique et les sucres
Water deficit is one the most important threat for wordwilde crops. Rosebush reacts to water restriction by keeping its buds along the stem into dormancy. Interestingly, susbtrat rehydration causes a strong stimulation of bud burst. We aimed to highlight possible differences between the dormancy caused by water limitation, in regard to the dormancy caused by apical dominance. Our study focuses on the role of the cross-talk between abscisic acid and carbohydrates within bud outgrowth regulation. We showed that abscisic acid is capable alone to prevent bud burst of nodes cultivated in-vitro, and that sucrose is able to antagonism this inhibition. We also pointed the fact that this antoganism does not require sucrose metabolisation, arguing for a signal role of sucrose. Thanks to moleculare analysis and upcoming biochemical and hormonal dosages in stem and bud, we propose new hypothesis for future investigations, questionning the involvment of PIN1 proteins in the water restriction induced dormancy.
La restriction hydrique est l'une des menaces les plus importantes pour les rendements agricoles à l'échelle mondiale. Chez le rosier, cela se traduit notamment par un maintien des bourgeons axillaires en dormance le long de la tige. Curieusement, une réhydratation du substrat stimule fortement le débourrement. Nous avons axé notre travail sur la recherche d'éventuelles différences entre les voies de signalisation de la dormance en situation de stress hydrique, et celles de la dormance due à la dominance apicale. Notre étude apporte les premiers éléments permettant de comprendre le rôle que tient le dialogue entre l'acide abscissique et les sucres dans la régulation du débourrement par le stress hydrique. Nous avons montré que l'acide abscissique est capable à lui seul de bloquer le débourrement sur des nœuds cultivés in-vitro, et que le saccharose antagonise cette action inhibitrice. Nous avons également montré le fait que cet antagonisme ne nécessite pas la métabolisation du saccharose, ce qui montre que le saccharose interagit avec l'acide abscissique en tant que signal. Grâce à des analyses moléculaires dans les bourgeons et à de prochains dosages hormonaux et biochimiques, nous dressons de nouvelles hypothèses de travail pour le futur, vis à vis de l'implication des protéines PIN1 dans cette inhibition par le stress hydrique.
Fichier principal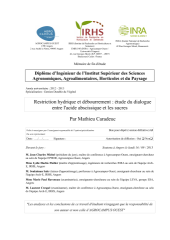 Caradeuc_Mathieu_Restriction_hydrique_debourrement.pdf (1.67 Mo)
Télécharger le fichier