Caractérisation comparative des services de positionnement différentiel EGNOS et DGPS IALA dans un contexte d'utilisation maritime et fluvial
In order to meet the requirements of maritime positioning established by the IMO, states set up fifteen year ago, coastal stations known under the naming of DGPS IALA stations. They broadcast GPS differential corrections allowing precise positioning near maritime coasts. As part of a retrenchment policy, these older stations have to meet effectiveness face to an all-spatial system EGNOS which provides an equivalent service for very reduced operational procedures. Specially-engineered for the air transport sector, the boat's surroundings and particularly outside factors could risk disrupting the orderly functioning. That's why, the CETMEF by several campaigns of measurement by sea and by river have to characterise comparatively the two services: EGNOS and the current one, IALA beacon differential GNSS service.
Pour répondre aux exigences de positionnement maritime édictées par l'OMI, les États ont mis en place, il y a une quinzaine d'années, des stations côtières connues sous l'appellation de stations DGPS IALA. Celles-ci diffusent des corrections différentielles GPS permettant un positionnement précis à l'approche des côtes. Cependant, sous l'influence de la politique actuelle d'économie, ces stations vieillissantes doivent répondre de leur efficacité face à un système spatial, EGNOS, apportant un service équivalent de positionnement et ce pour des modalités d'utilisation très réduites. Étant développé pour répondre à des besoins de transport aérien, les particularités de l'environnement du navire (ports, ponts...) peuvent éventuellement introduire des limitations pour le niveau de service de EGNOS. Pour ces raisons, le CETMEF doit caractériser, à travers plusieurs campagnes de mesures sur mer et sur fleuve, le service EGNOS comparativement au service actuellement en place, le DGPS IALA.
Fichier principal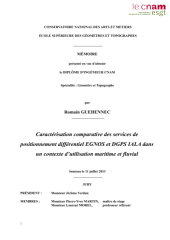 GHEHENNEC_Romain.pdf (9.87 Mo)
Télécharger le fichier
article.pdf (525.15 Ko)
Télécharger le fichier