La pensée philosophique en tant qu'ἀνάμνησις
The purpose of this research is to view philosophical thought as being essentially connected to the phenomenon of ἀνάμνησις, that is, recollection or anamnesis. We are trying to rethink the particularity of philosophical reasoning. From this point of view, to philosophize means "to recollect". However, anamnesis has nothing to do with memory or memories. It is rather an experience through which truth happens. Our starting point can be traced to an obviousness of philosophical thought: thought has a history and roots in a certain tradition. Anything one places before thought, anything that thought undertakes as task is either connected to what has been thought before or refers to what has been, even if one admits it or not. We identify, underneath this obviousness, a tendency of philosophical thought which has not yet been questioned or explained. Thus to philosophize means, to a certain degree, turning towards the past in order to seize it back, but this time in another light. This starting point receives philosophical confirmation through the "historical" analysis of anamnesis in the works of Plato and Gadamer. Through this we discover that anamnesis defines the process of philosophical "learning and discovery". According to Plato άνάμνησις represents not so much an actualization of innate and latent knowledge as a way of grasping anew the "known". This "retrospective" movement allows philosophical thought to attain truth and knowledge. According to Gadamer Plato's άνάμνησις resembles re-cognition. Both analyses reveal the "structure" and the being of anamnesis, which is that of the "re-": re-living, re-cognition, re-conquering, re-view reality "from a distance". This idea means to "view" things "in a different perspective", or to re-experience things as a form of "increasing" knowledge. "Re-" in anamnesis means to re-make an "experience". Anamnesis is the experience of philosophical reasoning. Knowing from a philosophical point of view signifies having the "experience of an experience".
Nous proposons à travers ce travail de regarder la pensée philosophique comme étant essentiellement liée au phénomène d'ἀνάμνησις, c'est-à-dire au ressouvenir ou à l'anamnèse. Nous cherchons à repenser le propre du philosopher. Dans cette optique, philosopher signifie "se ressouvenir". Pourtant, l'anamnèse n'a pas affaire à la mémoire et aux souvenirs. Elle est expérience, à travers laquelle adviennent une vérité et un savoir. Notre point de départ se trouve dans une évidence de la pensée philosophique : la pensée a une histoire et s'enracine dans une tradition. Tout ce qu'on met devant la pensée, tout ce que la pensée prend comme tâche a un lien avec ce qui a été pensé auparavant ou fait référence à ce qui a été, qu'on l'admette ou non. Nous identifions, cachée sous la forme de cette évidence, une tendance de la pensée philosophique qui n'a pas été mise en question ou explicitée. Ainsi, philosopher c'est dans un certain sens se retourner vers le passé afin de le reprendre sous un jour nouveau. Ce point de départ trouve sa confirmation philosophique à travers une analyse "historique" : l'anamnèse chez Platon et Gadamer. C'est à travers cette façon de mettre à l'œuvre ce que l'évidence nous a dévoilé qu'on découvre que l'anamnèse décrit la recherche et la découverte de type philosophique. Pour Platon, l'άνάμνησις représente moins une actualisation d'un savoir tout fait, inné et latent, qu'une manière de reprendre quelque chose de "su" sous un jour nouveau. C'est donc ce mouvement "rétrospectif" qui rend possible le savoir et la vérité pour la pensée philosophique. Selon Gadamer, l'άνάμνησις platonicienne s'apparente à une re-connaissance. Ces deux analyses dévoilent une certaine "structure" que possède l'anamnèse, un certain mode d'être : elle se définit par le "re-". Il s'agit d'un re-vivre, re-connaître, re-conquérir, re-voir "à distance" la réalité. Ceci renvoie à l'idée de "voir" les choses "dans une autre lumière", ou faire une nouvelle expérience des choses qui apporterait un surcroit de connaissance. Le "re-" de l'anamnèse désigne le fait de re-faire une "expérience". L'anamnèse représente une expérience du philosopher. Philosopher et parvenir à un savoir signifie, dans ce sens, faire l'expérience de l'expérience.
Fichier principal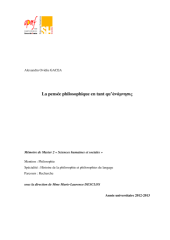 Gacea_Alexandru_Ovidiu_-_La_pensee_philosophique_en_tant_qu_anamnesis.pdf (1.3 Mo)
Télécharger le fichier