Trajectoires de l'agriculture insulaire sur Ouessant
This thesis is meant to define the conditions required to maintain the agriculture in Ouessant and the forms it can take. The methodology experimented compiles empirical datas coming from litterature and field datas. These datas come from patrimonial audit (performed on persons affected by the question of the way fallow lands are handled) and from the "matrice CAPE" method (systems of people participating in the way fallow lands are handled). This methodology studies for the first time the multiples aspects of the insular agriculture in Ouessant. The maintenance of the agriculture there depends on the activity itself which means that it has other issues to consider and other services to offer (environmental, territorial and social issues and services). It also depends on the farmer himself and his own life and professional project which has to suit the agricultural, social and economical requirements of the island. Eventually, the maintenance of the agriculture in Ouessant depends on the activity in the institutional network and in the territories.
Ce mémoire s'engage à définir les conditions du maintien d'une agriculture sur Ouessant ainsi que les formes qu'elle peut revêtir. La méthodologie expérimentée, compilant données empiriques issues de la littérature et données de terrain faisant appel consécutivement à l'audit patrimonial (représentation de la réalité de l'ensemble des acteurs sur la question de la gestion de l'enfrichement) puis à la matrice CAPE (systèmes d'acteurs impliqués dans la gestion de l'enfrichement), étudie pour la première fois la multidimensionnalité de l'agriculture insulaire sur Ouessant dont le maintien dépend de l'activité en elle-même, c'est à dire qu'elle répond à d'autres enjeux, offre d'autres services : environnementaux, territoriaux et sociaux ; de l'agriculteur de par son projet de vie et professionnel particulier en adéquation aux conditions agro-socio-économique de l'île ; de l'activité dans le réseau institutionnel mais également dans les territoires.
Fichier principal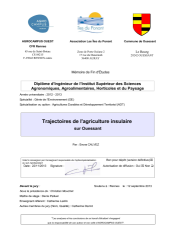 CALVEZ_Enora_Trajectoires_agriculture_insulaire_Ouessant.pdf (1.25 Mo)
Télécharger le fichier