Multiplication des mycorhizes arbusculaires en milieu liquide et solide afin d'améliorer la formulation de biofertilisants
With the increased use of chemical fertilizers in Latin America and the side effects trained, microbiology research develops. Thus, PROINPA foundation headquartered in Cochabamba (Bolivia), is producing organic fertilizers, based on arbuscular mycorrhiza (AM). The objective of this work is to increase the AM minimizing the amount of substrate used. Two techniques are tested here, the multiplication of AM substrate base of clay and / or sand and hydroponics culture. The host, hordeum vulgare, is stressed by the shallow depth of the substrate or by the lack of nutrients in the solution to cause sporulation: S100, S50 and T, respectively 100%, 50% and 0% of nutrient solution are tested. Evaluated variables are agronomic data such germination, plant height and root dry weight, and data on the successful establishment of symbiosis or not, with the study of colonization frequency and spores number identified by sample. Results in solid medium gave negative rates of multiplication, which means that the inoculated spores germinated but the experimental conditions were not suitable for the establishment of symbiosis. The sand could give better results in terms of root development and thus colonization but by testing greater depths. In contrast, the rate of increase in hydroponics are very satisfactory (up to 1271%), especially in S100. It remains to improve the protocol formulation AM and study the adaptation of the product under actual conditions of culture.
Avec l'augmentation de l'usage des fertilisants chimiques dans les pays d'Amérique latine et les effets secondaires entraînés, la recherche en microbiologie se développe. Ainsi, la fondation Proinpa, dont le siège est à Cochabamba (Bolivie), est productrice de biofertillisants, à base de mycorhizes arbusculaires (MA). L'objectif de ce travail est de multiplier les MA en minimisant la quantité de substrat utilisé. Deux techniques sont testées ici, la multiplication de MA en substrat à base d'argile et/ou de sable et en culture hydroponique. La plante-hôte, hordeum vulgare, est stressée par la faible profondeur de substrat ou par le manque de nutriments dans la solution afin de provoquer la sporulation : sont testées les solutions S100, S50 et T respectivement à 100%, 50% et 0% de solution nutritive. Les variables évaluées sont des données agronomiques telles pourcentage de germination, hauteur de plante et poids sec de racines, et des données sur l'établissement ou non de la symbiose, avec l'étude de la fréquence de colonisation et du nombre de spores recensé par échantillon. Les résultats en milieu solide ont donné des taux de multiplication négatifs, ce qui signifie que les spores inoculées ont germé mais les conditions de l'expérience n'ont pas été adéquates à l'établissement de la symbiose. Le sable pourrait donner de meilleurs résultats en terme de développement racinaire et donc de colonisation, mais en testant des profondeurs plus importantes. En revanche, les taux de multiplication en hydroponie sont très satisfaisants (jusqu'à 1271%) surtout dans S100. Il reste à améliorer le protocole de formulation des MA et étudier l'adaptation du produit en conditions réelles de culture.
Fichier principal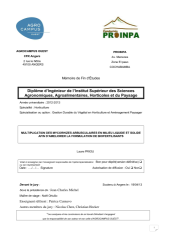 Priou_Laure_Mycorhizes_arbusculaires_milieu_liquide_solide.fr.pdf (1.56 Mo)
Télécharger le fichier