Studying genetic control fo partial resistance to Aphanomyces cochlioides (Drech) in Sugar-Beet (Beta vulgaris L.)
Aphanomyces cochlioides is a fungus whose incidence is rapidly increasing in sugar beet crops. It causes root damage and yield loss in the USA, China and increasingly in eastern Europe. This is a very unpredictable disease. Trying to control it is an important issue and breeding for resistance is the most probable route to a solution. To learn more about the genetic control of the disease, a linkage analysis of QTL was performed. Previous assays made by SESVanderHave were used as a starting point and QTLs were found on chromosomes 4 and 6. However the phenotyping techniques were not well adapted and the development of a suitable bioassay had to be made prior to the QTL analysis. In the present work, new methods were developed but the results showed no correlation with those of the conventional technique, despite a good discrimination of the controls. The fine mapping assay detected a QTL on chromosome 1. These results are of an interest to use in resistance breeding in sugar beet.
Aphanomyces cochlioides est un champignon pathogène critique dans les cultures de betterave à sucre. Il cause de nombreux dommages et des pertes de rendement aux États-Unis, en Chine et de plus en plus dans l'est de l'Europe. C'est une maladie très imprévisible. La lutte contre ce champignon est donc un enjeu important et la sélection pour la résistance est un moyen de lutte en développement. Pour connaître mieux le contrôle génétique de la résistance, une analyse QTL de liaison a été réalisée. Les essais précédents menés par SESVanderHave ont été utilisés comme prérequis, des QTLs avaient été trouvés sur les chromosomes 4 et 6. Cependant, la technique de phénotypage n'était pas très adaptée et il a fallu d'abord développer un bioessai avant l'analyse QTL. Dans le travail réalisé ici, malgré une bonne discrimination entre témoins, la comparaison des résultats obtenus avec la technique utilisée conventionnellement n'indique aucune corrélation. L'essai de cartographie fine montre quant à lui un QTL sur le chromosome 1. Ces résultats montrent un intérêt pour l'utilisation de la résistance en sélection.
Fichier principal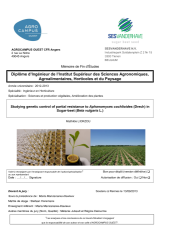 Liorzou_Mathilde_Aphanomyces_cochlioides_sugar_beet.pdf (6.72 Mo)
Télécharger le fichier