Quels sens des personnes donnent à leurs itinéraires particuliers intégrant soins non conventionnels et recours au médecin traitant ?
Resort to alternative health care has become common in the health system. According to the WHO, 75 % of french people have had recourse to a complementary and alternative medecine at least once in their life. Many have recourse to it but few tell their physicians.This study is about the meanings people give to alternative health care and their family doctor within their health itinerary. A qualitative reasearch method based on interviews was used. The verbatims were transcripted and analysed by the two researchers. They coded individually then categorized and linked the data together, using anchored therorisation, according to Paillé. Sixteen interviews were made before data saturation point. Meanings people give to their health wanderings correspond here to orientations, significations and empiric perceptions. Efficacity and relations of quality seem to be aimed in recourses. Choices seem based on experiences and beliefs about the qualities of differents kinds of medicines, experiences and beliefs influencing one another. Relational and sociocultural influences also contribute to give an orientation and a signification to different recourses. What people research in alternative care are often what they lack with the physicians. Holistic approach, openmindness in listening and dialogue and less medication are specially wanted. In conclusion, people seem to organise their health itineraries in various ways and subjectively but ask for cooperation and dialogue between conventional and alternative medicines to make the health system evolve.
Le recours aux soins alternatifs est fréquent pour les usagers du système de soins. D'après l'OMS, 75% des Français ont eu recours, au moins une fois dans leur vie, à une médecine complémentaire et alternative. Peu en parlent à leurs médecins. Cette étude s'intéresse aux sens que donnent des personnes à leurs recours à des soins alternatifs et à leur médecin traitant au sein de leurs itinéraires de soins particuliers. Une méthode de recherche qualitative à base d'entretiens semi-dirigés a été employée. Les entretiens ont été enregistrés, retranscrits et analysés par les deux chercheurs. Des codages ont été effectués individuellement puis une catégorisation et une mise en lien des données a été faite à deux. Seize entretiens ont été réalisés avant d'arriver à saturation des données. La recherche d'efficacité à résoudre les problèmes rencontrés et d'une relation de qualité semblent orienter les recours aux soins. Le choix semble se faire en fonction des expériences vécues et des convictions quant aux qualités des différents types de soins, expériences et convictions se nourrissant réciproquement. Les influences extérieures relationnelles et socioculturelles contribuent également à donner du sens aux différents recours. Des éléments recherchés dans les recours aux soins alternatifs correspondent souvent à des reproches faits à l'encontre des médecins : notamment une prise en charge globale, une ouverture manifestée par l'écoute et le dialogue, une limitation des médications. Pour conclure, les personnes hiérarchisent leurs recours aux soins de façons variées mais souhaitent généralement une coopération entre le conventionnel et l'alternatif.
Fichier principal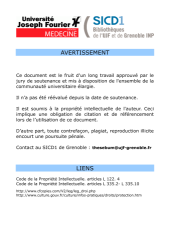 2014GRE15018_jonik_lucie_et_veret_tanguy_1_D_.pdf (1.48 Mo)
Télécharger le fichier