La meunerie Delphinale en Grésivaudan à la fin du Moyen-âge
The Accounting Chamber of Dauphine has through its accounts castellanies left countless serial information on economic management, social, judicial, political and military of the province. The Delphinal's mills are prominently in this account. Their systematic analysis for the bailiwick of Grésivaudan has helped to highlight major trends for the fourteenth and fifteenth century. Having characterized the Delphinale's milling in its geographical, economic and technical aspects, we were able to seize its evolution in a feverish context, produces of « the destruction of a full world » of the thirteenth century and the period of transition marked by wars and deaths both in the countryside than in town.
La Chambre des comptes du Dauphiné a, par l'intermédiaire de ses comptes de châtellenies, laissé d'innombrables informations sérielles concernant la gestion économique, sociale, judiciaire, politique et militaire de la province. Les moulins delphinaux sont en bonne place dans cette comptabilité. Leur dépouillement systématique pour le baillage du Grésivaudan a donc permis de mettre en évidence de grandes tendances pour les XIVe et XVe siècles. Après avoir caractérisé cette meunerie delphinale dans ses aspects géographiques, économiques et techniques, nous avons pu saisir son évolution dans un contexte fiévreux, produit de « la destruction du monde plein » du XIIIe siècle et de la période de transition qui s'ouvre alors marquée par les guerres et mortalités tant dans les campagnes qu'en ville.
Fichier principal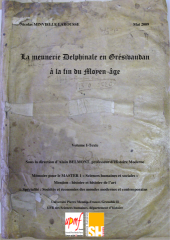 Minvielle-Larousse Nicolas - La meunerie delphinale en Gresivaudan a la fin du Moyen Age 1.pdf (2.24 Mo)
Télécharger le fichier
Minvielle-Larousse Nicolas - La meunerie delphinale en Gresivaudan a la fin du Moyen Age 2.pdf (24.06 Mo)
Télécharger le fichier