Dans l'œil de Nancy Holt : conscience du regard et conscience de soi
In this thesis, the point is to study the gaze to understand how Nancy Holt manages to connect the viewer and the landscape, and in the end how this gaze reflect the viewer himself. The artist doesn't only show a bucolic landscape through her sculptures, her definition of the Land Art is more complex than it appears. She decides to show multiple things : tangible elements of Nature, such as the sky ; elements somewhat abstract like historic dates linked to the cosmos' way of working ; finally totally abstract elements as the visual infinity or the temporal infinity and their limits. All of this is underline by visual devices, which have been built according to a tedious and sophisticated plan. With these devices the artist sets the pieces of game of perception by : pointing precise landmarks, extracting them of their close environment, and focusing all the attention of the viewer on those images. The sculptures are conceived to protect the viewer and his gaze, their made just for him and even by him : they have the proportion of the human body (human scale), and ask for visual and physical participation… By experiencing this type of work of art fixed on the site by the landscape and the stars, the viewer access to the perception of the cosmos. The sculpture are not only referring to the endlessly vast, but they are also referring to the infinitely human. They hand a mirror to the viewer and the artist herself, showing them their inside-landscape. The sculptures' tunnels are the link between the world and the viewer, they set him into the flux of instant and time : the circular elements are connecting back the human being into Nature.
Dans ce mémoire, il s'agit par le biais de l'étude du regard de comprendre de quelle façon Nancy Holt connecte le spectateur au paysage, pour mieux par la suite le renvoyer à lui-même. L'artiste ne se limite pas à montrer un simple paysage champêtre à travers ses sculptures, sa définition du Land Art est bien plus complexe et variée que cela. Ce qu'elle prend la peine de montrer est multiple : des éléments concrets comme la nature, le ciel, ou la ville ; des éléments plus abstraits comme des dates historiques et des dates liées au fonctionnement cyclique du cosmos ; et enfin des éléments totalement abstraits, comme l'infini visuel et temporel accompagnés de leurs limites. Tout ça par le biais d'appareils visuels dont la construction est issue d'un processus fastidieux et élaboré. Avec eux elle pointe des marqueurs particuliers du paysage, les extraie visuellement de leur environnement, et fixe toute l'attention du spectateur sur ces vues. De ce fait l'artiste met en place les composants d'un jeux de perception. Les sculptures sont conçues pour protéger le spectateur et son regard, elles sont faites pour lui et surtout par lui, que ce soit en rapport avec son corps (échelle) ou par sa participation visuelle et physique. En faisant l'expérience de ces œuvres fixées sur leur site par le paysage et les étoiles, le spectateur peut accéder jusqu'à la perception du cosmos. Mais les sculptures ne renvoient pas seulement à l'infiniment grand, elles reflètent aussi l'infiniment humain. Le miroir qu'elles tendent aux spectateurs, comme à l'artiste elle-même, fait ressortir aux yeux de chacun son paysage intérieur. Les tunnels des sculptures sont le lien entre le monde et le spectateur, ils placent ce dernier dans un flux continu qui mêle l'instant et la durée : ce sont les éléments circulaires qui replacent l'Homme dans la Nature.
Fichier principal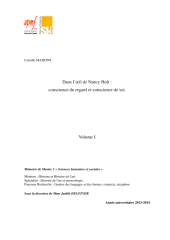 Maisons Camille - Dans l'oeil de Nancy Holt, conscience du regard et conscience de soi 1.pdf (734 Ko)
Télécharger le fichier
Maisons Camille - Dans l'oeil de Nancy Holt, conscience du regard et conscience de soi 2.pdf (11.19 Mo)
Télécharger le fichier