Edizione digitale del libretto d'opera Il Tabarro di Giacomo Puccini e Giuseppe Adami
The subject discussed in this master's thesis concern the creation of a digital edition based on some opera librettos of Il Tabarro, composed by Giacomo Puccini for the musical part and by Giuseppe Adami for the text. This is the first of the three one-act operas of the Puccini's Triptych and it is from the drama La Houppelande of Didier Gold. The opera librettos chosen were edited by Ricordi editions in different years of the first half of the twentieth century: in 1918 and in 1930. For the philological part of this study, it has been realized a work of transcription, collation and analysis of variants. For the encoding of the opera librettos, which is a necessary step for the creation of the digital edition, it has been used the oXygen software. With this software, the file has been created in XML format (eXtensible Markup Language) and used the TEI langage (Text Encoding Initiative). The digital edition of opera librettos can offer different perspectives, as a better comprehension of the literary text and various possibilities of visualisations can be proposed to the user.
L'objet d'étude de mon mémoire de master porte sur la réalisation de l'édition numérique basée sur certains livrets de l'opéra Il Tabarro de Giacomo Puccini et Giuseppe Adami. Cet opéra est le premier des trois actes uniques intégré dans le Trittico de Giacomo Puccini, et est tiré de l'œuvre théâtrale La Houppelande de Didier Gold. Les deux livrets d'opéra choisis ont été publiés par la maison d'édition musicale italienne Ricordi pendant la première moitié du vingtième siècle, en 1918 et en 1930. En ce qui concerne l'étude philologique, l'identification fondamentale des sources primaires, la transcription, la confrontation entre les deux versions transcrites et l'analyse successive des variantes existantes ont été réalisées. L'encodage des livrets d'opéra, étape nécessaire à la proposition de l'édition numérique, a été effectué simultanément à la transcription des deux textes des livrets d'opéra en utilisant le logiciel oXygen. Grâce à ce programme, les différents fichiers numériques ont été créés au format XML (eXtensible Markup Language) et en utilisant le langage de la TEI (Text Encoding Initiative). L'édition numérique de livrets d'opéra offre de nombreuses perspectives comme une meilleure compréhension du texte littéraire, et différentes possibilités de visualisation proposées aux lecteurs.
Gli argomenti trattati nella tesi riguardano la realizzazione di un'edizione digitale basata su alcuni libretti a stampa dell'opera Il Tabarro composta da Giacomo Puccini per la parte musicale e Giuseppe Adami per il testo. Si tratta del primo dei tre atti unici inseriti nel Trittico del compositore lucchese, di ambientazione parigina, la cui vicenda è tratta dall'opera teatrale La Houppelande di Didier Gold. I libretti d'opera scelti sono stati editi dalle edizioni Ricordi in anni diversi della prima metà del novecento: rispettivamente nel 1918 e nel 1930. Lo studio filologico che ne è scaturito ha dunque previsto un lavoro di trascrizione, di collazione e di analisi delle varianti, oltre che un'identificazione fondamentale delle fonti primarie. Per la codifica dei libretti invece, tappa utile alla realizzazione propria dell'edizione digitale, è stato utilizzato il software oXygen. Attraverso questo programma sono stati creati i diversi file in formato XML (eXtensible Markup Language) e utilizzando il linguaggio della TEI (Text Encoding Initiative). L'edizione digitale di libretti d'opera offre diverse prospettive tra le quali una maggior comprensione del testo letterario e diverse possibilità di visualizzazione proposte all'utente.
Fichier principal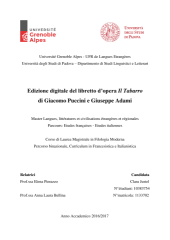 JUSTEL_Clara_M2R_Etudes_italiennes_Etudes_françaises_2017.pdf (1.45 Mo)
Télécharger le fichier
Origin : Files produced by the author(s)