L'écriture collaborative d'un carnet de voyage en 5e. Comment écrire l'intime à plusieurs ?
An experiment conducted in class allows us to think about the intimate writing in a collaborative travel diary : What are the interests of collaborative writing in education? What skills does it help pupils to improve? What are the challenges? The supporting points? How to set up and frame an effective collaborative work between them? Based on the definition of the notion "sujet scripteur" by Tauveron (2007), the didactic models of Bucheton and Chabanne (2002), the researches of Meirieu about working in group (1997, 1999) and the rewriting activities of Bernardin (2007) and Portelette (2011), this research tries to give some answers. We notice that the collaborative travel diary allows pupils to improve their skills in writing and that it encourages their motivation as they personally invest in the process.
La recherche menée pose la question de l'écriture collective de l'intime dans le cadre d'un carnet de voyage collaboratif en classe de 5e. De cette problématique découle les questionnements suivants : Quels sont les intérêts didactiques et pédagogiques de l'écriture collaborative de l'intime ? Qu'apporte-t-elle aux élèves en termes de compétences ? Quelles sont les difficultés ? Les points d'appui ? Comment mettre en place un dispositif de travail de groupe efficace ? Afin de répondre à ces questions, le travail mené s'appuie notamment sur la définition du sujet scripteur de Tauveron (2007), les modèles didactiques de l'écriture de Bucheton et Chabanne (2002), les recherches de Meirieu sur le travail de groupe (1997, 1999) et, les dispositifs de réécriture proposés par Bernardin (2007) et Portelette (2011). Nous constatons que l'écriture collaborative d'un carnet de voyage permet aux élèves de progresser significativement dans l'acquisition de compétences disciplinaires et qu'elle est une source de motivation pour les élèves qui s'investissent personnellement dans sa réalisation.
Fichier principal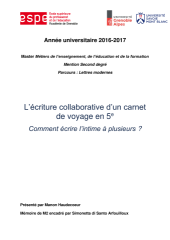 Haudecoeur-Manon-PLC-Lettres.pdf (3.18 Mo)
Télécharger le fichier
Origin : Files produced by the author(s)