Du mal-être au bien-être d'élèves à besoins éducatifs particuliers : la discipline positive comme vecteur de bien-être scolaire : étude de cas
This research starts with several observations: the feeling of unease displayed in school by some students with special needs schooled in an ordinary environment and the disarray of their families - same goes for their teachers - faced with this situation. Despite the diversity of the students' profiles concerned, life skills programs seem to be a promising course of action, in particular Positive Discipline (PD). Since 2015 in the Parisian region, Talentiel School, the first "Lab School" for Positive Discipline in France, chose this method. This institution welcomes students such as intellectually gifted children or children suffering with attentiondeficit disorder (ADD) and learning disabilities, all of them in a situation of academic ill-being. This case study has explored how a psychosocial skills program, like positive discipline, can improve those students' well being in school and boost their self esteem.
Cette recherche a pour point de départ un triple constat : le mal-être scolaire de certains élèves à besoins éducatifs particuliers (BEP) scolarisés en milieu ordinaire, le désarroi de leurs familles face à cette situation ainsi que celui de leurs enseignants. Malgré l'hétérogénéité des profils d'élèves concernés, les programmes de développement des compétences psychosociales (CPS) semblent être une piste d'action prometteuse, en particulier celui de la Discipline Positive (DP). C'est le choix opéré depuis 2015 par l'école Talentiel en région parisienne, premier établissement français labellisé « Lab School » en Discipline Positive. Cette école accueille des élèves EIP, TDA/H et dys- en situation de mal-être scolaire. La présente étude de cas a donc permis d'explorer en quoi un programme de développement des CPS comme la DP permettrait d'améliorer le bien-être scolaire de ces élèves et redynamiserait leur estime d'eux-mêmes.
Fichier principal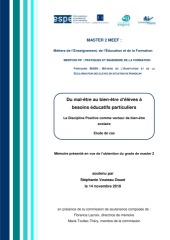 Nantes_VOUTEAU_Stéphanie_MASH_2018_compressed.pdf (16.59 Mo)
Télécharger le fichier
Origin : Files produced by the author(s)