Des carrières militantes animalistes abolitionnistes. L'engagement dans le groupe lyonnais de l'association L214 Éthique & Animaux
Since the early 1990s, the antispeciesist movement has developed in France. In 2003, a first campaign against foie gras designed by antispeciesists was launched, and became the L214 association in 2008. Ten years later, it receives more than 3 million euros in donations and organizes many street actions each week thanks to its network of volunteers. This master's dissertation studies the reasons for the activists' involvement. The effects of the recruitment work carried out by the association as well as the factors of individual commitment are analysed on the basis of participating observations and interviews conducted with people who wanted to get involved but did not complete the process and with volunteers who were more or less involved. The dissertation shows the relevance of a dual approach to commitment, understood both as the result of the association's work and of the active efforts of aspiring volunteers, conditioned by their socialization.
Depuis le début des années 1990, le mouvement antispéciste s'est développé en France. En 2003, émerge une première campagne d'opposition au foie gras conçue par des antispécistes, avant de devenir en 2008 l'association L214. Dix ans plus tard, celle-ci emploie une soixantaine de salarié·e·s et organise chaque semaine une multitude d'actions de rue grâce à son réseau de bénévoles. Ce mémoire étudie les raisons de l'engagement des militant·e·s dans l'un de ses groupes locaux. Les effets du travail du recrutement mené par l'association ainsi que les facteurs de l'engagement au niveau individuel sont analysés à l'appui d'observations participantes et d'entretiens avec des aspirant·e·s bénévoles et avec des bénévoles plus ou moins engagé·e·s. Le mémoire montre la pertinence d'une double approche des raisons de l'engagement, compris à la fois comme le résultat du travail de l'association et de démarches actives des aspirant·e·s bénévoles, conditionnées par leur socialisation.
Fichier principal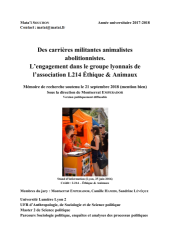 SOUCHON_Matai_M2_Lyon2.pdf (2.72 Mo)
Télécharger le fichier
Origin : Files produced by the author(s)