Co-conception de l'outil didactique #Lecturedoc et développement professionnel
In this research, I endeavored to highlight the elements of understanding the effects of instrumental self-evaluation of professional development perceived by the teachers-designers of the #Lecturedoc teaching tool. Starting from the observation that teachers do not explain all the personal and professional contributions related to the co-design of an innovative tool, I postulated a priori the influence of the co-development of a self-assessment tool. The latter favors, in fact, a better knowledge and analysis of the impacts of the continued co-design in the use on the professional development of the actors. The research methodology used, with a comprehensive aim, relied on two com-plementary tools: the self-evaluation tool and two series of semi-directive interviews conducted with five teacher-designers. Based on a categorization of the professional development indicators (stemming from the re-search), the analysis of the collected information made it possible to answer the initial hypotheses. Being a teacher-designer of a didactic tool is undoubtedly a lever of multidimensional professional development better appreciated and self-analyzed by the co-designers thanks to a co-constructed self-assessment tool.
Dans cette recherche, je me suis attachée à mettre en lumière les éléments de com-préhension des effets de l'autoévaluation instrumentée du développement professionnel perçu par les enseignants-concepteurs de l'outil didactique #Lecturedoc. Partant du constat que les enseignants n'explicitent pas l'ensemble des apports personnels et professionnels liés à la co-conception d'un outil innovant, j'ai postulé a priori sur l'influence de la co-élaboration d'un outil d'autoévaluation. Ce dernier favoriserait, en effet, une meilleure connaissance et analyse des impacts de la co-conception continuée dans l'usage sur le développement professionnel des acteurs. La méthodologie de recherche utilisée, à visée compréhensive, s'est appuyée sur deux outils complémentaires : l'outil d'autoévaluation et deux séries d'entretiens semi-directifs menées auprès de cinq enseignants-concepteurs. Se basant sur une catégorisation des indicateurs de développement professionnel (issus de la recherche), l'analyse des informations recueillies a permis de répondre aux hypothèses initiales. Être enseignant-concepteur d'un outil didactique représente assurément un levier de développement professionnel multidimensionnel mieux appréhendé et auto-analysé par les co-concepteurs grâce à un outil d'autoévaluation co-construit.
Fichier principal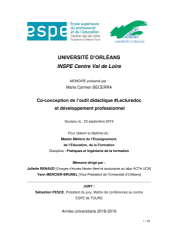 Mémoire_M2_ MEEF_ MarieCarmen_Becerra.pdf (2.38 Mo)
Télécharger le fichier
Origin : Files produced by the author(s)