Entre Histoire et mémoire. La Guerre Civile espagnole dans la bande dessinée : Eloy, uno entre muchos et Río Manzanares (1979) ; El arte de volar (2009)
Spanish comics are full cultural products that witness changes within the society. They allow us to analyse the society's perception of the Civil War (1936-1939) that tore the country apart during three years. The thirty years gap between Antonio Hernández Palacios' comic book series and Antonio Altarriba et Kim's graphic novel shows how the perception and the representation of the event have evolved in this medium. Those differences show fluctuations in the way of relating the conflict: first perceived as a collective event reported from a historical perspective, it is now individually conceived and narrated from a memorial approach.
La bande dessinée espagnole est un produit culturel à part entière qui témoigne des évolutions de la société. Elle permet d'analyser la perception que la société possède de la Guerre Civile (1936-1939) qui déchira l'Espagne durant trois ans. Ce décalage de trente ans entre la série d'Antonio Hernández Palacios et le roman graphique d'Antonio Altarriba et Kim, montre que la perception et la représentation de l'événement ont évoluées dans ce médium. Ces différentes évolutions montrent une oscillation dans la manière de raconter le conflit : tout d'abord perçu comme un événement collectif et raconté depuis une perspective historique, il est désormais imaginé de manière individuelle et narré depuis une approche mémorielle.
Fichier principal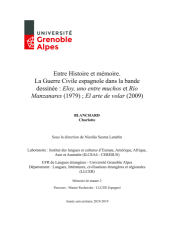 BLANCHARD_Charlotte_M2R_Etudes_hispaniques_2019.pdf (5.85 Mo)
Télécharger le fichier
Origin : Files produced by the author(s)