Les fusiliers de montagne du Roussillon au XVIIIe siècle : des troupes légères roussillonnaises parmi les Roussillonnais
The province of Roussillon gave birth in the 17th century to a particular military unit, the Miquelets. This unit changed in light troop corps during wars of Louis XIV, and became under Louis XV the unit of Arquebusiers of Roussillon, then Mountain Riflemen. Badly known for the 18th century and for a long time called bandits and mercenaries by historiography of Roussillon, Mountain Riflemen have been revealed to be soldiers of the Country, living freely among their compatriots in a very organized regiment in the same way as other light troops. Having confidence of King of France, Miquelets served to the protection of Roussillon's border against desertion and contraband, and support the regular army during the Wars of the Polish Succession in Italy and Corsica, during the War of the Austrian Succession in Italy, then in Menorca during the Seven Years' War.
La province de Roussillon donna naissance au XVIIe siècle à une unité militaire particulière, celle des Miquelets. Cette unité se transforma au fil des guerres de Louis XIV en corps de troupe légère et devint sous Louis XV, celui des Arquebusiers du Roussillon, puis des Fusiliers de montagne. Mal connus pour le XVIIIe siècle et longtemps qualifiés de bandits et de mercenaires par l'historiographie roussillonnaise, les Fusiliers de montagne se sont révélés être des militaires du pays, vivant librement parmi leurs compatriotes sous la forme d'un régiment très organisé au même titre que d'autres corps de troupes légères. Ayant la confiance du roi de France, les Miquelets servirent à la protection de la frontière du Roussillon contre la désertion et la contrebande, puis au soutien de l'armée de ligne durant les guerres de Succession de Pologne en Italie et en Corse, pendant la guerre de Succession d'Autriche en Italie, puis à Minorque durant la guerre de Sept Ans.
Fichier principal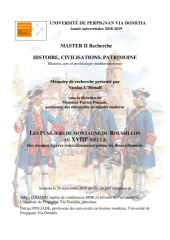 Memoire_Lhenaff.pdf (6.34 Mo)
Télécharger le fichier
Annexes.pdf (9.84 Mo)
Télécharger le fichier
Origin : Files produced by the author(s)