De l'industrie rurale. Approche de l'industrie sous l'Ancien-Régime : le cas de Sassenage (1759-1791)
The industry is at the heart of the company's history and evolution. Very early on, the government sought to control the sector, but it was Colbert's policies in particular that marked his sustained intervention at the end of the 17th century. At the dawn of the revolution, the entrepreneurial spirit intensified with the rise of prominent industrialists, seeking to take advantage of the economic freedoms granted by the monarchy. This sector is mainly located in urban areas, but rural industry, where part of the production is established, should not be neglected. The whole purpose of this study is to demonstrate the interest of localized studies, particularly in terms of history, but also in terms of understanding our human society. These allow the identification of fundamental elements of society and case studies sometimes allow the identification of isolated profiles of generalities. Our subject is Sassenage, a village at the foot of the eastern part of the Vercors massif, not far from Grenoble. Focusing on this case between 1759 and 1791, the aim of this research is to focus on its main industrial centres: the manufacture of blond lace, the Sassenage artifices and the stone quarries between Sassenage and Fontaine. Each application has its own particularities and contains the main features of an evolving society. This research is also ideal for addressing social and labour issues, including the relationships between workers and their working conditions in manufacturing workshops. This research is based on a multitude of archives, including all the protocols of the notaries of Sassenage between 1759 and 1788, industrial surveys and various acts such as receipts, leases, leases that shed light on our case studies of the Sassenage industry. We therefore invite the reader to read the history of a small territory that has relations with the city of Grenoble.
L'industrie est au cœur de l'histoire de la société et de son évolution. Très tôt, le pouvoir chercha à contrôler le secteur, mais ce sont surtout les politiques de Colbert qui vont marquer son intervention soutenue à la fin du 17e siècle. À l'aube de la révolution, l'esprit entrepreneurial s'intensifie avec l'essor de notables industriels, cherchant à tirer profit des libertés économiques accordées par la monarchie. Ce secteur se trouve principalement en milieu urbain, mais il ne faut pas délaisser l'industrie rurale où une partie de la production est établie. Toute l'ambition de cette étude est de démontrer l'intérêt des études localisées, notamment sur le plan historique, mais également sur le plan de la compréhension de notre société humaine. Celles-ci permettent la mise en évidence d'éléments fondamentaux de la société et les études de cas permettent parfois d'identifier des profils isolés des généralités. Notre sujet porte sur Sassenage, village au pied de l'est du massif du Vercors, non loin de Grenoble. En nous focalisant sur ce cas entre 1759 et 1791, la visée de cette recherche est de nous centrer sur ses principaux centres industriels : la manufacture de dentelles de blondes, les artifices de Sassenage et les carrières de pierres entre Sassenage et Fontaine. Chacune des applications possède leurs particularités et recèle les principaux traits d'une société en évolution. Cette recherche est aussi idéale pour aborder la question sociale et ouvrière, notamment les relations entre les travailleurs et leurs conditions de travail au sein des ateliers manufacturiers. Cette recherche est élaborée à partir d'une multitude d'archives, entre autres l'intégralité des protocoles des notaires de Sassenage entre 1759 et 1788, des enquêtes industrielles et divers actes tels que des quittances, locations, baux qui permettent d'éclairer nos études de cas de l'industrie sassenageoise. Nous convions donc le lecteur à une lecture de l'histoire d'un territoire réduit qui entretient des relations avec la ville de Grenoble.
Fichier principal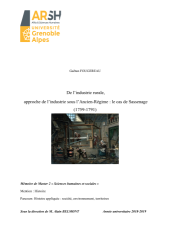 Gaëtan_Fougereau_De l'industrie rurale.pdf (1.39 Mo)
Télécharger le fichier
Origin : Files produced by the author(s)