Enseignement du français en ligne en Chine via la plateforme CC Talk : description du dispositif et du style d'agir professoral
This research aims at describing the online didactic interaction as it establishes on the foreign language learning platform CC Talk. This distance learning course in French takes place in China, which represents several conceptions of language teaching in this specific context. It is a case study to describe an online course in French that has been very successful to a wide audience at the beginner level. Christine is an experienced teacher who has her strategies for managing the interaction and keeping the learner's attention. The purpose is to summarize key features about this didactic online interaction and to describe the teaching style based on the synchronous audiographic in online learning environments.
Cette recherche consiste à décrire une interaction didactique en ligne telle qu'elle se déroule sur la plateforme d'apprentissage des langues étrangères CC Talk. Ce cours à distance d'enseignement du français en Chine est représentatif des conceptions de l'enseignement des langues dans ce contexte spécifique. Il s'agit d'une étude de cas, un cours de français magistral en ligne qui a eu beaucoup de succès auprès d'un grand public chinois au niveau débutant. L'enseignante Christine déploie ses propres stratégies pour gérer l'interaction et maintenir l'attention des apprenants. L'objectif est de retirer les caractéristiques essentiels de cette interaction didactique en ligne et de décrire le style d'enseignement dans un environnement numérique d'apprentissage en mode audiographique synchrone.
Fichier principal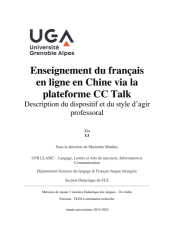 LI Xia_M2_FLE.pdf (1.35 Mo)
Télécharger le fichier
Origin : Files produced by the author(s)