Current state of knowledge on the therapeutic potential of cannabidiol, how can the dispensary pharmacist advise it ?
État actuel des connaissances sur le potentiel thérapeutique du cannabidiol, comment le pharmacien d'officine peut-il le conseiller ?
Hemp is one of the oldest plants cultivated and used by humans. Known since the Neolithic period for its medicinal properties and the quality of its fibers, its molecular composition and mechanism of action have, however, remained largely unknown. In recent years, there has been growing interest in the therapeutic potential of cannabidiol, the main non-psychoactive molecule in cannabis. This cannabinoid has been shown to have anti-inflammatory, analgesic, anxiolytic, sedative, anticonvulsant, anti-emetic, and many more effects. All of this underlies use in several common conditions: anxiety, depression, insomnia, autoimmune diseases, cancer or epilepsy. Patients generally practice self-medication, and the pharmacist has a role to play in this regard, in order to further secure and supervise the use of CBD. He will be able to rely on this medium, which contains all the information necessary for full advice, namely the pathologies concerned, the mechanism of action, adverse effects, drug interactions and legislation.
Le chanvre est l'une des plus anciennes plantes cultivées et utilisées par l'Homme. Connue dès l'époque du néolithique pour ses vertus médicinales et la qualité de ses fibres, sa composition moléculaire et son mécanisme d'action sont pourtant restés longtemps méconnus. Ces dernières années, le potentiel thérapeutique du cannabidiol, principale molécule non psychoactive du cannabis a suscité un intérêt croissant. Ce cannabinoïde a démontré des effets antiinflammatoires, antalgiques, anxiolytiques, sédatifs, anticonvulsivants, antiémétiques et bien d'autres encore. Tout ceci sous-tend une utilisation dans plusieurs pathologies fréquentes : l'anxiété, la dépression, l'insomnie, les maladies auto-immunes, le cancer ou l'épilepsie. Les patients pratiquent généralement l'automédication, et le pharmacien d'officine a un rôle à jouer à ce niveau-là, afin de sécuriser et d'encadrer davantage la prise de CBD. Il pourra s'appuyer sur ce support qui reprend toutes les informations nécessaires à un conseil complet, à savoir les pathologies concernées, le mécanisme d'action, les effets indésirables, les interactions médicamenteuses et la législation.
Fichier principal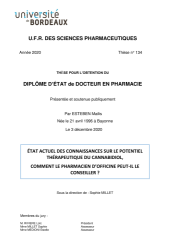 Pharmacie_2020_Esteben.pdf (3.06 Mo)
Télécharger le fichier
Origin : Files produced by the author(s)