Vitesse de traitement de l'information dans la Sclérose en Plaques : effets de la réhabilitation cognitivo-linguistique sur des performances de temps de réaction et sur les phénomènes de plasticité cérébrale sous-jacents chez 25 patients
Cognitive problems are common in people living with multiple sclerosis (PwMS). Few studies evaluate the effectiveness of cognitive rehabilitation on IPS. Functional Magnetic Resonance Imaging (fMRI) can help to understand the mechanisms of brain plasticity related to the performance of IPS and their evolution after rehabilitation. Our ancillary study, based on a randomized, blinded, controlled clinical trial, aims to study the impact of a cognitive rehabilitation program on the performance of IPS in PwMS and to understand its mode of action by studying the phenomena of plasticity. The PwMS for which we had fMRI data were selected and randomized into 2 treatment groups of 50 individual sessions, 3 times a week: a REACTIV group benefiting from rehabilitation and a global management group. Two reaction time (RT) tasks, behavioural assessment and fMRI, were offered, pre- and post-treatment, as well as EDSS and self-questionnaires for fatigue, depression and anxiety. Statistical analyses comparing pre- and post-treatment RT were performed using the Mann Whitney and Wilcoxon tests. Twenty-five patients, 13 in the REACTIV group and 12 in the control group, and 22 controls matched for age, gender, and education level were included. Compared to controls, patients in the PwMS group had slower RT. RT scores on behavioural assessment and fMRI improved significantly only in the REACTIV group after rehabilitation. The fMRI analyses could not be finalized following Covid-19. Pre- and post-rehabilitation cognitive results on single RT tasks show potential for improvement in IPS while maintaining the quality of responses in the PwMS who underwent specific rehabilitation compared to those who underwent global management.
Les troubles cognitifs sont fréquents chez des personnes vivant avec une sclérose en plaques (PvSEP). Peu d'études évaluent l'efficacité d'une réhabilitation cognitivo-linguistique sur la VTI. L'Imagerie par Résonance Magnétique fonctionnelle (IRMf) peut contribuer à comprendre les phénomènes de plasticité cérébrale liés aux performances de VTI ainsi qu'à leur évolution après une réhabilitation. Notre étude ancillaire réalisée à partir d'un essai clinique contrôlé, en aveugle et randomisé, vise à étudier l'impact d'un programme de réhabilitation cognitive sur les performances de VTI chez des PvSEP et à en comprendre le mode d'action en étudiant les phénomènes de plasticité.Les PvSEP dont nous disposions des données d'IRMf étaient sélectionnées et randomisées en 2 groupes de traitement de 50 séances individuelles, 3 fois par semaine : un groupe REACTIV bénéficiant d'une réhabilitation et un groupe de prise en charge globale. Deux tâches à temps de réaction (TR), en évaluation comportementale et en IRMf, ont été proposées, avant et après traitement, ainsi que des EDSS et auto-questionnaires de fatigue, de dépression et d'anxiété. Les analyses statistiques comparant les TR avant et après traitement étaient réalisées à partir des tests de Mann Whitney et Wilcoxon. Vingt-cinq patients, 13 dans le groupe REACTIV et 12 dans le groupe contrôle, et 22 témoins appariés en âge, sexe et niveau d'éducation ont été inclus. Comparés aux témoins, les PvSEP présentaient des TR plus lents. Les scores de TR à l'évaluation comportementale et en IRMf s'amélioraient significativement uniquement au sein du groupe REACTIV après la réhabilitation. Les analyses d'IRMf n'ont pu être finalisées suite au Covid-19. Les résultats pré- et post-réhabilitation cognitive aux tâches à TR simple montrent des possibilités d'amélioration de la VTI tout en maintenant la qualité des réponses chez les PvSEP ayant suivi une réhabilitation spécifique comparés à celles ayant suivi une prise en charge globale.
Fichier principal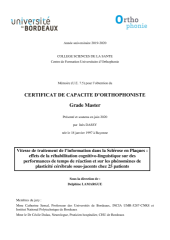 ORTH_2020_DASSY.pdf (2.07 Mo)
Télécharger le fichier
Origin : Files produced by the author(s)