Adaptation of pre-signal system to make a success of temporary cycle lanes
Adaptation d'un système de préfeu dans le but de pérenniser les pistes cyclables temporaires. Comment pérenniser la mise en place des pistes cyclables temporaires tout en maintenant un réseau efficace et une congestion acceptable et contrôlée ?
This study deals with the possibility to make a success of temporary cycle lanes which have been implemented during the lockdown due to Covid-19. The durability of this kind of infrastructure raises two main problems, the improvement of cycling conditions and the quality of the network for cars. This work studies the optimum of giving place to bicycles and keeping a hight level of quality for cars. First, the implement of the temporary lanes is described. Authorities have been pushed to implement this cycle urban planning. These causes are explained. However, this work shows the drawbacks of this kind of urban planning. There is a diminution of capacity on intersections and it drives to a reduction of the network quality for cars. It could increase the risk of the congestion. What is more, the network quality depends on the management of intersections. Then, the system of pre-signal, already used for improving the traffic conditions for buses is described. An adaptation of this system is realised to the bicycle traffic. This adaptation appears like an alternative to the temporary cycle lanes. It can be a solution to better share the space between bikes and cars. This idea is part of the concept of tactical urban planning which aims the good conditions of lives and a durable city. After, the performance of the three models are tested. In order to help to quantify the performance of the different models, tools are introduced. The total delay and the level of congestions are these tools which help to understand what is going on, during simulations. Car demand are introduced in these three models. The study of the pre-signal parameters drives to the creation of a tool which links car demand, ratio of the pre-signal and the distance between the pre-signal and the traffic signal of the intersection. Several ways to use this tool are given. It could be a good help to foresee the evolution of congestion or to dynamically manage the intersection. Results show that the pre-signal could be a solution in several cases, it improves the bike security for a minimal delay for cars, compared to the temporary cycle lanes. The limits and the ideas to continue this work are presented.
Ce rapport étudie la possibilité de pérennisation des pistes cyclables temporaires qui ont été mises en place pendant le confinement lors de la crise sanitaire dû au Covid-19. La durabilité de ce genre d'infrastructure passe à la fois par une amélioration des conditions de circulation à vélo mais aussi par un maintien d'un niveau de service acceptable pour les voitures. Ce travail étudie donc l'optimum entre laisser de la place aux vélos tout et maintenir une offre acceptable pour les voitures. D'abord, le rapport décrit le contexte de l'apparition de ces pistes cyclables. Les causes qui ont poussé les pouvoirs publics à créer ces aménagements en faveur des cyclistes sont explicités. Cependant, le rapport présente les limites de ces aménagements face à une demande plus importante en voiture. Les pistes cyclables temporaires abaissent la qualité du réseau car elles suppriment une voie pour la circulation des voitures au niveau des intersections. Or la qualité et la performance d'un réseau dépend en grande partie de la gestion des intersections en zone urbaine. Ensuite, une adaptation du système de préfeu est introduite. Cette adaptation à la circulation à vélo en est faite pour proposer une alternative aux pistes cyclables temporaires au niveau des intersections. Cette alternative paraît être une solution pour mieux partager l'espace entre vélos et voitures. Cette utilisation du préfeu rentre dans le cadre du concept d'urbanisme tactique qui a pour but de mieux penser l'espace urbain pour rendre la ville plus durable. Enfin, les performances de trois modèles sont étudiées. Leurs performances sont étudiées à travers la sécurité qu'ils permettent aux cyclistes, mais aussi au retard cumulé et à l'évolution de la remontée de file d'attente. Un outil, un abaque, est ensuite créé à partir des paramètres d'entrée du système de préfeu, la demande en entrée du modèle, le ratio du préfeu et sa distance par rapport à l'intersection. Cet abaque est polyvalent puisqu'il peut être utilisé comme outil pour gérer dynamiquement le préfeu ou même prédire l'évolution de la congestion. Les résultats mènent à l'observation qu'un système de préfeu peut être la solution dans certains cas de figure, qu'il permet une meilleure sécurité pour les cyclistes et qu'il améliore le rendement et le débit saturant des intersections par rapport à une piste cyclable temporaire. Les limites et les pistes d'amélioration du travail sont ensuite présentées.
Fichier principal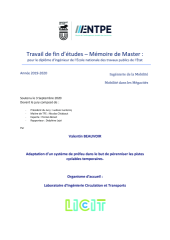 BEAUVOIR_Valentin_RAPPORT_TFE_2020.pdf (7.93 Mo)
Télécharger le fichier
Origin : Files produced by the author(s)