Outil exploratoire du langage écrit pour enfants bilingues français-anglais de 8-10 ans
Objective: it is now recognized that bilingualism in children is associated with a different cognitive and language development than in monolinguals. However, there is very little material adapted to bilingual children. One of the main issues in their assessment is therefore the creation of such material, which speech therapists lack, especially for the written part. In our study, we are particularly interested in dyslexia/dysorthographia, the impact it has in the context of bilingualism and the specificity of its assessment. Thus, the objective of this study is to develop a protocol to explore the reading and spelling skills of French-English bilingual children aged 8 to 10 years.
Material and method: 18 bilingual children without language impairment and 5 bilingual children with dyslexia/dysorthographia were tested on reading/spelling pre-requisites, reading and spelling tests in French and English. Factors influencing bilingualism were assessed with the ALEQ questionnaire.
Results: bilinguals with dyslexia/dysorthographia scored significantly lower on the reading and transcription tests than bilinguals without impairment. The more a child has been exposed to written language, the better his or her results are in spelling (and to a lesser extent in reading). The test scores appeared to be independent of the variables length of exposure and rate of exposure in the two languages.
Conclusion: the exploratory tool developed seems sufficiently sensitive to discriminate bilingual children with dyslexia/dysorthographia from the general population. However, the small sample of bilinguals with a language impairment forces us to consider these results with caution.
Objectif : il est désormais admis que le plurilinguisme chez l'enfant est associé à un développement cognitif et langagier différent de celui des monolingues. Il existe cependant très peu de matériel adapté aux enfants bilingues. L'un des enjeux principaux de leur évaluation est donc la création de ce matériel, notamment pour le langage écrit et plus particulièrement dans le cadre d'un trouble spécifique de l'acquisition du langage écrit (TSALE) lors d'un bilinguisme. Ainsi, l'objectif de cette étude est l'élaboration d'un protocole d'exploration du langage écrit de l'enfant bilingue précoce français-anglais âgé de 8 à 10 ans.
Matériel et méthode : 18 enfants bilingues tout-venant et 5 enfants bilingues avec TSALE ont été soumis à des épreuves de pré-requis du langage écrit, de lecture et de transcription en français et anglais. Les facteurs influençant le bilinguisme ont été évalués avec le questionnaire ALEQ.
Résultats : les résultats des bilingues avec TSALE sont significativement inférieurs à ceux des bilingues tout-venant pour les épreuves de lecture et de transcription. Plus un enfant a été exposé au langage écrit dans une langue et plus ses résultats aux épreuves de transcription (et à moindre mesure de lecture) sont bons dans cette langue. Les résultats aux épreuves apparaissent globalement indépendants des variables longueur d'exposition et taux d'exposition dans les deux langues.
Conclusion : l'outil exploratoire élaboré semble suffisamment sensible pour discriminer les enfants bilingues avec TSALE des tout-venant. Toutefois, l'échantillon faible de bilingues avec TSALE nous oblige à considérer ces résultats avec prudence.
Fichier principal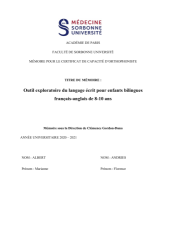 9_MEM_ORTHO_2021_ALBERT_Marianne-ANDRIES_Florence.pdf (495.94 Ko)
Télécharger le fichier
Origin : Files produced by the author(s)