Au fil de la plume d'une épistolière sous la Révolution française : Rosalie Jullien, femme, épouse et mère engagée (1779-1799)
It was a long period of time that women were not mentioned in history books and the French Revolution, misogynist, was not the exception of such phenomenon. Yet it is possible to study their role, whether they took part to the revolutionary days, whether they made a speech in the club stands or whether they stayed at home holding the quill of family correspondence, to say the least. Rosalie Jullien is a bourgeoise of the end of the 18th century who, through her prolix quill, made her epistolary exchanges the place of writing a daily life punctuated by revolutionary events. Residing in Paris, she acts as a witness, columnist and journalist for correspondents who are none other than her husband and her sons. In her letters, private and public meet, family life merges with political life at the end of the 18th century, while, through a constantly renewed writing, this woman, mother and wife of revolutionaries, echoes of an insatiable interest in state affairs. This study aims to account for the status of this letter-writer who makes her correspondence a forum in which to develop sometimes radical political ideas, within the framework of an intimate trade where many subjects of concern follow one another, over an inexhaustible quill, between maternal advice, moral lessons and often relevant analyzes of the course of the political life of her time.
Les femmes ont longtemps été absentes des livres d'histoire et la Révolution française, misogyne, ne fait pas exception à la règle. Pourtant, il est possible d'étudier le rôle qu'elles ont joué, qu'elles aient participé aux journées révolutionnaires, qu'elles aient fait entendre leur voix à la tribune des clubs ou qu'elles soient restées dans le sein de leur foyer à tenir la plume d'une correspondance familiale pour le moins originale. Rosalie Jullien est une bourgeoise de la fin du XVIIIe siècle qui, par sa plume prolixe, a fait de ses échanges épistolaires le lieu de l'écriture d'un quotidien rythmé par les événements révolutionnaires. Résidant à Paris, elle se fait témoin, chroniqueuse et journaliste pour des correspondants qui ne sont autres que son mari et ses fils. Dans ses lettres, privé et public se rencontrent, la vie familiale se confond avec la vie politique de la fin du XVIIIe siècle, tandis que, par une écriture sans cesse renouvelée, cette femme, mère et épouse de révolutionnaires, se fait l'écho d'un intérêt insatiable pour les affaires d'État. Cette étude vise à rendre compte du statut de cette épistolière qui fait de sa correspondance une tribune où développer des idées politiques parfois radicales, dans le cadre d'un commerce intime où se succèdent de nombreux sujets de préoccupation, au fil d'une plume intarissable, entre conseils maternels, leçons de morale et analyses souvent pertinentes du cours de la vie politique de son temps.
Fichier principal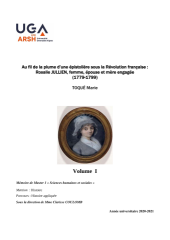 Toqué Marie - Au fil de la plume d'une épistolière - 1.pdf (2.46 Mo)
Télécharger le fichier
Toqué Marie - Au fil de la plume d'une épistolière - 2.pdf (7.04 Mo)
Télécharger le fichier
Origin : Files produced by the author(s)