General practitioner teleconsultation in medically underserved areas: towards a new type of inequality of access to health care?
La téléconsultation du médecin généraliste en zone rurale fragile : vers une nouvelle forme d'inégalité d'accès aux soins ?
Patients in medically underserved areas are experiencing increasing difficulties to access health care. Teleconsultation is offered to improve this access but raises questions in the context of digital divide. A qualitative study was conducted in a rural medically underserved area on patients who do not have any experience of general practitioner teleconsultation. Patients were asked about apprehension regarding teleconsultation with a GP. This study highlighted several key points to take into account before spreading medical teleconsultation. Teleconsultation can be seen as a threat to the privileged relationship established between the patient and their "family doctor". Also, it is symbolic of further abandonment of essential services being not ensured anymore in these territories, with a feeling of being downgraded. The issues related to access and to digital skills are not the only ones to be taken into account when analyzing the digital divide. It is also important to consider the meanings of ICT (Information and Communication Technology) since some people also desire to be independent from ICT. In this context, the deployment of teleconsultation cannot take place without first ensuring the patient's willingness to use it, and secondly verifying the real social progress it brings. An ethical review is therefore required before and during the roll-out of this new type of consultation. Without doing so, general practitioner teleconsultation is at risk of creating new inequalities as regards access to health care.
Les patients en zones rurales fragiles connaissent des difficultés grandissantes d'accès aux soins. Pour améliorer leur accès aux soins la téléconsultation leur est proposée mais elle pose question dans un contexte de fracture numérique. Une étude qualitative a été menée auprès de patients n'ayant pas eu d'expérience de téléconsultation du médecin généraliste dans une zone hyper rurale en carence d'offre de soins. Les patients étaient interrogés sur leur appréhension vis-à-vis de la téléconsultation du médecin généraliste. Ce travail a permis de révéler des points de vigilance à avoir dans le cadre du déploiement de la téléconsultation. La téléconsultation s'inscrit dans un processus de nostalgie du « médecin de famille » et de perte de la relation privilégiée nouée avec lui. Elle symbolise aussi un abandon supplémentaire des services essentiels et risque d'augmenter le sentiment de relégation de ces territoires. Les problèmes d'accès et de compétences numériques ne sont pas les seuls à prendre en compte pour analyser la fracture numérique. Les significations d'usage des TIC sont également à considérer : en effet, une volonté d'indépendance vis-à-vis des TIC existe. Dans ce contexte, le déploiement de la téléconsultation ne peut avoir lieu sans, d'une part, la préservation du choix du patient d'y adhérer ou non et, d'autre part, la vérification du réel progrès social qu'elle apporte. Une réflexion éthique est donc à mener avant et pendant le déploiement de ce nouveau mode de consultation. En son absence, la téléconsultation du médecin généraliste risquerait d'être le lieu d'une nouvelle forme d'inégalité d'accès aux soins.
Fichier principal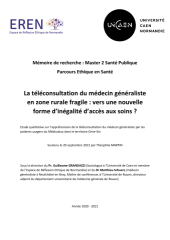 Memoire M2 Ethique - MARTIN Theophile.pdf (1.49 Mo)
Télécharger le fichier
Origin : Files produced by the author(s)