Les sources occultes de l'histoire de l'art : l'ésotérisme dans l'historiographie de l'architecture à l'époque romantique
It was at the dawn of the 19th century that the first pre-scientific methods were developed, which were to serve as a basis for the disciplines of art history and archaeology. Since then, one word has not ceased to come back, a taboo word, the mere mention of which provokes very strong reactions : "esotericism". It disturbs as much as it attracts. For many, this word evokes a long chain of initiates, who would have transmitted a secret hidden in the forms of architecture to each other over time. These then become "symbols", "emblems": each element is likely to convey a discreet, even secret meaning. However, no one has taken the trouble to specify its meaning in the fields of art history and archaeology. A question then arises : when an art historian or an archaeologist uses this word today, what exactly is he talking about? The study of a vast corpus of documents published since the end of the 18th century (press, popular, religious and political literature, scholarly...) allows us to envisage two answers that blur the supposedly clear-cut boundaries between "science" and "esotericism". The revelation of the "occult sources" of art history opens up new perspectives on the intellectual "unconscious" of this discipline.
C'est à l'orée du 19e siècle que sont élaborées les premières méthodes pré-scientifiques qui serviront d'appui aux disciplines de l'histoire de l'art et de l'archéologie. Depuis lors, un mot ne cesse de revenir, un mot tabou, dont la seule mention provoque des réactions très fortes : « ésotérisme ». Il dérange autant qu'il attire. Ce mot évoque, pour beaucoup, une longue chaîne d'initiés, qui se seraient transmis au fil du temps un secret, dissimulé dans les formes d'architectures. Celles-ci deviennent alors des « symboles », des « emblèmes » : chaque élément se trouve susceptible de véhiculer un sens discret, voire secret. Pourtant, personne n'a pris la peine de préciser son acception dans les domaines de l'histoire de l'art et de l'archéologie. Une question se pose alors : lorsqu'un historien d'art ou un archéologue emploie aujourd'hui ce mot, de quoi parle-t-il exactement ? L'étude d'un vaste corpus de documents publiés depuis la fin du 18e siècle (presse, littérature populaire, religieuse et politique, savante…) permet d'envisager deux réponses qui brouillent les frontières supposément nettes entre « science » et « ésotérisme ». La révélation des « sources occultes » de l'histoire de l'art ouvre ici des perspectives nouvelles quant à l'« inconscient » intellectuel de cette discipline.
Fichier principal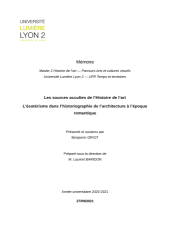 MEM2_BenjaminGriot_2021.pdf (882.88 Ko)
Télécharger le fichier
Origin : Files produced by the author(s)