Évaluation finale du contrat de ville, penser la politique de la ville de demain : étude de cas du Contrat de ville 2015-2023 Communauté d'agglomération du Pays Voironnais
The contrat de ville 2015-2023, a tool of the city's policy, deployed on the national territory in priority neighborhoods, needs to be evaluated in order to prepare the next contract. The final evaluation of this public policy raises important issues since it represents the opportunity to see "quartiers en veille active" considered again with the introduction of criteria more flexible, more coherent, more adapted to the size of each community. The evaluation, although often criticized by the elected representatives of the communities, makes it possible to think in a collective way the continuation of the action and to animate the project continuously regardless of the moment in which the evaluation takes place. The policy of the city being exhausted by a significant lack of human and financial resources, requires to be re-examined in the territories in order to inject a new territorial dynamic.
Le contrat de ville 2015-2023, outil de la politique de la ville, déployé sur le territoire national sur des quartiers prioritaires, nécessite d'être évalué dans le but de préparer la prochaine contractualisation. L'évaluation finale de cette politique publique porte des enjeux importants puisqu'elle représente l'opportunité de voir les quartiers en veille active considérés à nouveau avec l'instauration de critères plus souples, plus cohérents, plus adaptés à la taille de chaque collectivité. L'évaluation, bien que souvent critiquée par les élus des collectivités, permettent de penser de manière collective la suite de l'action et d'animer le projet continuellement, peu importe le moment dans lequel intervient l'évaluation. La politique de la ville s'essoufflant par un manque important de moyens humains et financiers, nécessite d'être réinterrogée dans les territoires afin d'insuffler une nouvelle dynamique territoriale.
Fichier principal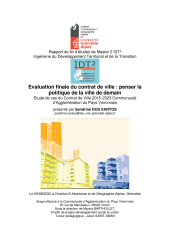 DOS SANTOS Sandrine.pdf (1.6 Mo)
Télécharger le fichier
Origin : Files produced by the author(s)