La mort des forêts vient du ciel : la controverse environnementale du dépérissement des forêts attribué aux pluies acides du point de vue français (années 1980)
My dissertation focuses on the environmental controversy of forest dieback attributed to acid rain and its reception and resolution in France during the 1980s. The historical study of this form of transboundary pollution, which challenges the certainties of scientists and traditional policies to fight air pollution, led me to explore the convergences between diplomacy, scientific expertise and political commitment, thanks to the study of the archives of the Bouchardeau Ministry of the Environment (1983-1986) and the Souchon Ministry of Forests (1893-1986). Thus, I endeavor to shed light on the process of construction of acid rain as a major danger over more than a century, to designate the actors responsible for the importation of this controversy in France, and to underline the stakes of legitimacy and conflictuality that catalyze this new political-environmental challenge.
Mon mémoire porte sur la controverse environnementale du dépérissement des forêts attribué aux pluies acides ainsi que sa réception et résolution dans la France des années 1980. L'étude historique de cette forme de pollution transfrontalière, qui défie les certitudes des scientifiques et les politiques traditionnelles de lutte contre la pollution de l'air, m'ont amené à explorer les convergences entre diplomatie, expertise scientifique et engagement politique, et ce grâce à l'étude des archives du ministère de l'Environnement Bouchardeau (1983-1986) et du ministère délégué aux Forêts Souchon (1893-1986). Ainsi, je m'emploie à mettre en lumière le processus de construction des pluies acides en tant que danger majeur sur plus d'un siècle, à désigner les acteurs responsables de l'importation de cette controverse en France, et à souligner les enjeux de légitimité et de conflictualité que catalysent ce défi politico-environnemental nouveau.
Fichier principal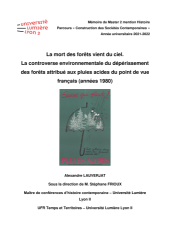 MEM2_AlexandreLauverjat_2022.pdf (3.42 Mo)
Télécharger le fichier

image.png (579 B)
Télécharger le fichier
Origin : Files produced by the author(s)