Deux prêtres catholiques face à la nation japonaise au tournant du XXe siècle : étude de la coopération et des écrits d'Alfred Ligneul et Maeda Chōta (1893-1907)
This study focuses on the life and common writings of two Catholic priests in Japan, Frenchman Alfred Ligneul (1847-1922) and Japanese Maeda Chōta (1867-1939). During the 1890s, Christians were facing a new wave of criticism, led by philosopher Inoue Tetsujirō (1856 -1944). Conceptualizing the "clash between education and religion", he accused Christianity of being incompatible with the national spirit and disloyal towards the emperor. In the wake of these ideas' success, the Japanese Catholic Church decided to involve itself in the public debate for the first time by charging Ligneul and Maeda with responding to them. Together, they published no less than 70 books between 1893 and 1907, including many about patriotism, nationalism, and the Catholics' conception of these concepts. Bye taking an uncompromising stance, by casting their contradictors starting with Tetsujirō as "materialists", by accusing them of being selfish and even by denouncing them as Freemasons, they acted as bearers of a triumphant ultramontane Catholicism that was dominant at the turn of the 20th century. Yet, they still tried to defend their own conception of patriotism, which was situated at the crossroads of their three main allegiances, to the Church, to France and to Japan, to which both men affirmed their loyalty. Thus, through this case of a collaboration between a Japanese and a French priest, we can understand the circulation and adaptation of Catholic discourses in mission countries, in the context of the globalization of the Church and the construction of national identity during late Meiji Era Japan.
Cette étude se penche sur la vie et les publications conjointes de deux prêtres catholiques au Japon, le français Alfred Ligneul (1847-1922) et le japonais Maeda Chōta (1867-1939). Le christianisme faisait face dans les années 1890 à des critiques de plus en plus virulentes, menées par le philosophe Inoue Tetsujirō (1856-1944). Celui-ci, qui théorisa le « conflit entre éducation et religion », accusait la religion chrétienne d'incompatibilité avec l'idéologie nationale et de déloyauté envers l'empereur. Face au succès de ces discours, l'Église catholique japonaise choisit de s'engager pour la première fois dans la controverse intellectuelle du pays en chargeant les Ligneul et Maeda d'y répondre. Ensemble, ils publièrent pas moins de 70 ouvrages entre 1893 et 1907, dont une partie concernant le sujet du patriotisme, du nationalisme et de la conception que les catholiques en avaient. En adoptant une position intransigeante, en fustigeant le « matérialisme » de leurs adversaires à commencer par Tetsujirō, en en faisant de s égoïstes voire en les dénonçant comme francs-maçons, les deux hommes se firent les porteurs du catholicisme ultramontain triomphant, dominant au tournant du XXe siècle. Ils cherchèrent malgré tout à défendre leur propre conception du patriotisme : celle-ci se situe notamment au carrefour de leurs trois allégeances principales, à l'Église, à la France et au Japon, auxquelles les deux hommes affirment leur fidélité. Ainsi, à travers ce cas d 'une collaboration entre un prêtre français et un prêtre japonais, on peut saisir la manière dont circulaient et s'adaptaient les discours catholiques en terre de mission, dans un contexte de mondialisation de l'Église et de construction de l'identité nationale japonaise à la fin de l'époque Meiji.
Fichier principal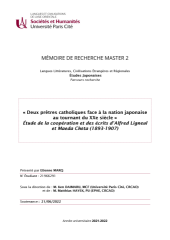 M2_LLCER_MARQ_Etienne_DUMAS.pdf (1.11 Mo)
Télécharger le fichier
Origin : Files produced by the author(s)