L'écoquartier de la Courrouze et le label Écoquartier : mise à distance d'un objet critiqué ou mise à l'écart des considérations habitantes ?
A ubiquitous concept since the early 2000s, eco-neighbourhoods have gradually developed within multiple urban spaces. Sometimes praised for its interest in building a more sustainable city, the eco-neighbourhood could be seen as a remedy to meet the defects and shortcomings of the modern city. Studying the appearance and evolution of these projects, research over the years has punctuated this concept criticizing its supposed successes and highlighting transformations that remain to be nuanced. Indicating the reproduction of old logics with a more modern, efficient display.
With the dissemination of this type of project, a State label (Label Ecoquartier) has appeared now held by more than 500 districts in France. At the heart of the logic of attractiveness, the label is criticized by a number of actors. Taking the case of the "écoquartier de la Courrouze" in Rennes, we will highlight the reasons for mistrust of the Ecoquartier label leading to a reduced communication on this subject among the inhabitants. These aspects cause a lack of knowledge about the eco-neighbourhood and its technical dimensions on the part of these same inhabitants.
Our objective, through interviews and questionnaires, is to grasp the relationship maintained with this econeighbourhood dimension and to question the inhabitant appropriation on this subject.
Concept omniprésent depuis le début des années 2000, les écoquartiers se sont peu à peu développés au sein de multiples espaces urbains. Tantôt vanté pour son intérêt dans la construction d'une ville plus durable, l'écoquartier a pu être vu tel un remède pour répondre aux défauts et manques de la ville moderne. Étudiant l'apparition et les évolutions de ces projets, des recherches, au fil des années, ont émaillé ce concept critiquant ses supposées réussites et mettant en avant des transformations qui demeurent à nuancer. Indiquant la reproduction de logiques anciennes avec un affichage plus moderne, plus efficace.
Avec la diffusion de ce type de projet, est apparu un label d'État détenu désormais par plus de 500 quartiers en France. Au cœur de logiques d'attractivité, le label est pourtant décrié et critiqué par un certain nombre d'acteurs. En prenant le cas de l'écoquartier de la Courrouze à Rennes, nous mettrons en avant les raisons d'une méfiance à l'égard du label Écoquartier entraînant une communication réduite sur ce sujet auprès des habitants. Ces aspects provoquant une méconnaissance concernant l'écoquartier ainsi que ses dimensions techniques de la part de ces mêmes habitants.
Notre objectif, au travers d'entretiens et de questionnaires, est de saisir le rapport entretenu avec cette dimension écoquartier et d'interroger l'appropriation habitante sur ce sujet.
Fichier principal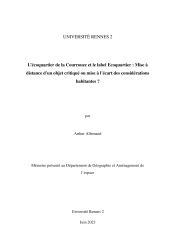 2023_MM2_AllemandA.pdf (9.3 Mo)
Télécharger le fichier
Origin : Files produced by the author(s)
Licence : CC BY NC ND - Attribution - NonCommercial - NoDerivatives