Définition et mise en oeuvre d'une stratégie environnementale au sein de l'entreprise "Chupin Espaces Verts"
Faced with the growing importance of environmental issues within societal expectations, companies, particularly those who's activities impacts our living environment, strive to implement strategies targeting the control of this business component. Born of a desire expressed at the highest level of management, the study defines and implements, through a suitable management system, the founding principles of the environmental strategy of the company Chupin Espaces Verts (C.E.V.). This process is initiated through the assessment of current company practices at both the managerial and operational levels, and by knowledge of the measures which allow for the validation and promotion of C.E.V.'s environmental commitment. Recognition by a third-party certification authority entails the formalization and traceability of the actions. The double definition of business processes that contribute to customer satisfaction and the internal objectives describing an expected result are the basis of environmental management system.
Face à l'essor des préoccupations environnementales qui créent une attente sociétale, les entreprises et plus particulièrement celles dont l'activité impacte notre cadre de vie, s'engagent dans des stratégies dédiées à la maîtrise de cette composante. Née d'une volonté affirmée au plus haut niveau de sa direction, l'étude définie et met en œuvre les fondements de la stratégie environnementale de l'entreprise Chupin Espaces Verts (C.E.V.) à travers un système de management adapté et évolutif. L'état des lieux des pratiques actuelles de l'entreprise, tant managériales qu'opérationnelles, ainsi que la connaissance des dispositifs permettant de valider et de promouvoir l'engagement environnemental de C.E.V. initient la démarche. La reconnaissance par un tiers certificateur impliquant formalisation et traçabilité des actions, la double définition des processus d'entreprise qui concourent à la satisfaction des clients et des objectifs internes décrivant un résultat escompté sont les fondements du système de management environnemental.
Fichier principal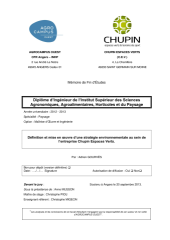 2013_Gourves_Adrien_Strategie_environnementale_entreprise_Chupin_Espaces_Verts.pdf (5.65 Mo)
Télécharger le fichier