L'eau et le projet de paysage en milieu méditerranéen, entre sécheresse saisonnière et inondations soudaines : comment intégrer des méthodes de gestion de l'eau dans un projet urbain ? Cas du parc urbain sportif du Domaine de La Tour à La Ciotat
Recent environmental considerations and available data on water consumption in green areas reveal the scarcity of resources and the need to think differently about the use of water in landscape projects. Furthermore, despite dams and canal systems in place, every year lots of damages are caused by the floods. The consequences of those floods highlight the fact that we need to find new protection solutions and new ideas to fight against these natural disasters. In response to this problem, legislations at national and European levels require an increase of security measures and encourage in particular the integration of new methods for managing storm water. In Mediterranean projects, these two issues concerning water management meet in a brutal way: the combination during summer of dry weather and seasonal flash floods demands that designers integrate these issues early in the design phase of their projects. The case of the urban park "Domaine de la Tour" in La Ciotat (13) is a good opportunity to apply concrete solutions and test their limits. This study aims to demonstrate that by integrating water issues in the earliest stages of project development it is possible to provide a safer design, thus increasing both the environmental value and the overall meaning of the project.
Les considérations environnementales récentes et les chiffres liés à la consommation en eau des espaces verts font prendre conscience de la rareté de la ressource et du besoin de repenser la gestion de l'eau des projets paysagers. D'autre part, malgré les digues et systèmes de canalisation mis en place, chaque année on compte les nombreux dégâts provoqués par les inondations. Les conséquences de ces crues mettent en avant le besoin que nous avons de trouver de nouvelles solutions de protection et d'aborder de nouvelles réflexions afin de lutter contre ces débordements. En réponse à ce problème, des législations à l'échelle nationale et européenne imposent de plus en plus de mesures de sécurité et surtout pousse à l'intégration de nouvelles méthodes de gestion des eaux de ruissellement. Dans les projets méditerranéens, ces deux problématiques autour de l'eau se rencontrent de manière brutale : le climat très sec en été et les soudaines inondations saisonnières demandent de la part des concepteurs l'insertion de ces problématiques très tôt dans la conception des projet. Le cas du parc sportif urbain du Domaine de La Tour à La Ciotat (13) permet de mettre en pratique des solutions concrètes à ces deux problématiques et de tester leurs limites. L'étude montre comment, en intégrant la problématique de l'eau dès les prémices de l'aménagement, il est possible de proposer un aménagement sécuritaire qui apporte une vraie plus-value environnementale et donne du sens au projet.
Fichier principal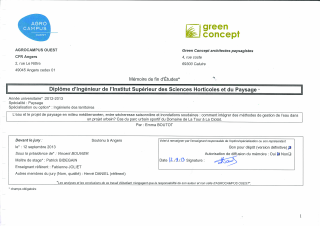 2013_Boutot_Emma_Eau_paysage_milieu_mediterranen.pdf (45.51 Mo)
Télécharger le fichier