Les nouvelles esthétiques de l'eau dans les parcs urbains contemporains
As one of the most essential element of our cities, water has been part of our public parks and gardens since Ancient times. First appreciated for it's life sustain quality, as time passed by and men's knowledge and conscience was increasing, water became much enjoyed for it's aesthetic qualities. A major power source in the preindustrial world, water gradually became a way of cleaning cities, absorbing wastes and thus watercourses became vast cesspools. To get rid of this nuisance, men started to build sewer networks all over the cities, draining away contaminated water far from it's source. However, such a system soon reached it's limits, causing floodings and pollutions. Today, as a counterpart, alternative managment for the water is a requirement in all recents urbans projects. The main aim of these new managment techniques is to allow water to penetrate into the soil as soon as it touches the ground. To this purpose parks are precious places to house such facilities, thanks to their permeable surfaces. The combination of parks with drainage new facilities allows new water features and elements to appear. The analysis of three parks containing water managment features leads to the idea that some of these water aesthetics are inspired by historical gardens when some others are actually transcriptions of socials expectations. Sustainable development, a better living environment, an increase in the natural features of the cities and a reintroduction of seasonal change are all parts of a contemporary drive for nature and sustainability.
L'eau est un élément essentiel dans la constitution de notre société. À l'origine, elle a trouvé sa place dans les parcs et jardins grâce à sa valeur vitale. Au cours des siècles, l'homme a exploité cette ressource à des fins esthétiques. Moteur de l'urbanisation préindustrielle, l'eau est peu à peu devenue un moyen de nettoyer la ville. Contaminée par les déchets urbains, elle provoque de nombreux problèmes d'hygiène et doit être évacuée hors de la ville. Pour cela, on voit apparaître le tout-à-l'égout qui draine les eaux polluées. Aujourd'hui, le "tout tuyau" étant vecteur d'inondations et de pollutions des milieux naturels, des techniques alternatives se développent. Privilégiant l'infiltration au plus proche du point de chute de l'eau pluviale, ces techniques s'insèrent dans le milieu urbain via les parcs et jardins. Ces lieux hybrides, mi-parcs mi-équipements d'assainissement sont propices à l'apparition de nouvelles esthétiques. À travers trois exemples, on découvre que ces nouvelles esthétiques héritent des formes du passé mais répondent aussi, et surtout, à des demandes sociales contemporaines : des aménagements durables, une amélioration du cadre de vie, des besoins de nature mais également un retour vers une mise en valeur du cycle des saisons.
Fichier principal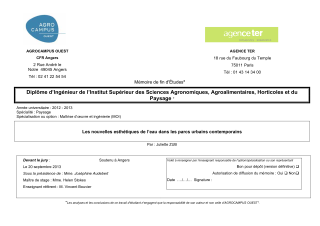 Zub_Juliette_Nouvelles_esthetiques_eau_parcs_urbains_contemporains.pdf (3.4 Mo)
Télécharger le fichier