Analyse des outils techniques de pilotage des Associations d'Organisations de Producteurs nationales "Pêches et nectarines de France" et "Abricots de France"
The National Associations of Producers Organization of ''Peaches and nectarines from France" and "Apricots from France", created in 2009, include 32 producer organizations or commercial companies. These associations have introduced some technical tools to ensure the management of peaches and apricots channels. After three years of operation these tools must be analyzed in order to provide improvements. The national charter of integrated production of fruits can unite producers. The "Vergers Ecoresponsables" logo which reflects its respect is an increasing approach. The inventory orchards software can centralize all the members' inventories orchards. This tool is essential, as it gives a right view of the potential of orchards. To answer to the economic challenges to a potential crisis on pesticide residues, another technical tool will be introduced. This is a database containing all the residue analyzes done on samples of peaches and apricots for sale. These tools improved or established, allow to the national associations to have accurate and consistent data so they have strong arguments to ensure the management of peaches and apricots channels.
Les Associations d'Organisations de Producteurs nationales ou AOPn "Pêches et Nectarines de France" et "Abricots de France", créées en 2009, regroupent 32 organisations de producteurs ou sociétés commerciales. Ces AOPn ont mis en place certains outils techniques leurs permettant d'assurer le pilotage des filières de pêches et d'abricots. Après 3 ans de fonctionnement, ces outils doivent être expertisés afin de leur apporter des améliorations. La charte nationale de production fruitière intégrée permet de fédérer la production. Le logo "Verger Écoresponsables" qui traduit son respect au niveau des produits est une démarche grandissante et valorisante auprès des arboriculteurs. Le logiciel d'inventaire des vergers permet de canaliser les inventaires vergers des adhérents à ces AOPn. Cet outil est capital puisqu'il permet d'avoir une vision juste du potentiel des vergers de la filière. Afin de répondre aux enjeux économiques liés à une éventuelle crise sur les résidus de produits phytosanitaires, un autre outil de technique va être mis en place. Il s'agit d'une base de données comportant l'ensemble des analyses de résidus effectuées sur des échantillons de pêches et abricots destinés à la vente. Ces outils ainsi améliorés ou mis en place permettent aux AOPn d'avoir des données précises et, par conséquent, des arguments solides leur permettant d'assurer le pilotage de la filière.
Fichier principal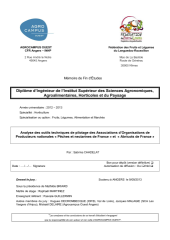 Chadelat_Sabrina_Analyse_outils_techniques_pilotage_AOPn.pdf (1.54 Mo)
Télécharger le fichier