Quel rôle l'intervention paysagère a-t-elle dans l'aménagement des jardins du souvenir ?
Since the end of the 20th century, cremation knows a growing popularity as a result of mixed evolving factors including economics, society and faith. Among other treatments for the remaining ashes, this study highlights the rise in France of memorial gardens inspired by the Anglo-Saxon movement of the gardens of remembrance. Regarding the novelty of these gardens in France, this study intends to provide a set of landscape-themed tools for the professional to use in order to adapt this infrastructure to the users' sensibility and needs. An analysis of cemeteries as the most common and traditional forms of funeral landscape in France defines a minimum threshold of expectations rooted in the local viewers' mind towards burial places. The decryption of the causes and consequences of the rise of cremation in France pinpoints the cultural and aesthetical issues at stakes in a process that dismiss the body as mourning material and physical beacon. At last national memorials provide strong conceptual hints in the treatment of a dual state shared by the memorial gardens: the ability to provide an intimate experience in a public space. The landscape tools highlighted throughout this work are applied to fulfil a commission requested by the city of Aix-en-Provence regarding the creation of a garden of remembrance in the Milles cemetery.
La crémation connaît depuis la fin du XXe siècle une popularité croissante, fruit de facteurs économiques, sociétaux et confessionnels. Parmi les différentes destinations des cendres, on s'intéresse dans cette étude à l'apparition des jardins du souvenir, ou jardin de dispersion des cendres, aménagement encore récent en France et influencé par les tendances anglo-saxonnes des gardens of remembrance. Au regard d'une pratique nouvelle, aux conséquences sensibles mal maîtrisées, cette étude se propose de construire une boîte à outils paysagère à même de répondre aux besoins de l'usager. Comment adapter la crémation et son interface paysagère à nos sensibilités ? Comment compenser la perte du support du deuil dans la dispersion des cendres, pratique trop facilement associée à la fosse commune moyenâgeuse ? L'étude des formes classiques du paysage funéraires français -les cimetières- permet de fixer le seuil minimal des attentes ancrées dans nos perceptions de la sépulture. Le décryptage des causes de la popularisation de la crémation et l'analyse des sépultures crématoires définit les enjeux culturels et esthétiques d'un processus funéraire détaché du corps. L'étude des mémoriaux nationaux dégage des intentions fortes répondant à la dualité d'un espace public support d'une expérience individuelle, paradoxe partagé par les jardins du souvenir. Les principes avancés dans cette étude sont illustrés par la commande d'un jardin de dispersion des cendres pour le cimetière des Milles.
Fichier principal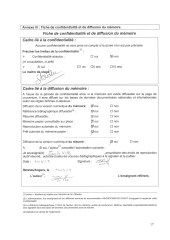 2013_Vial_Camille_Role_intervention_paysagere_amenagement_jardins_souvenir.pdf (6.08 Mo)
Télécharger le fichier