Développement et traitement paysager des liaisons douces. Exemple de la ville d'Entraigues-sur-la-Sorgue
The organization of roads changed during the centuries. Well-developped for vehicules, logics have changed. Cycles and pedestrians are reconsidered in the drawing of public roads. This evolution is linked with the sustainable development and pondered at the scale of the territory. A lot of actors are involved in every projects at every scale. Knowing each stake enable them to decide the area of each project. Landscapers are searching for the good atmosphere which lead population to move with cycles or on foot. The example of Entraigues-sur-la-Sorgue is taken.
L'organisation des réseaux viaires a évolué au fil des époques. Anciennement adaptée à la circulation automobile, elle est aujourd'hui reconsidérée pour insérer les déplacements doux. Cette évolution s'appuie sur une démarche durable et s'inscrit dans un projet de territoire. L'étude des enjeux à chaque échelle faisant intervenir de nombreux acteurs permet de traduire des volontés territoriales en aménagements locaux. Le paysagiste recherche la création d'ambiances paysagères en faveur des modes doux en s'inspirant du site et utilisant les outils adaptés. Une méthodologie est proposée pour la ville d'Entraigues-sur-la-Sorgue et illustrée par les aménagements proposés.
Fichier principal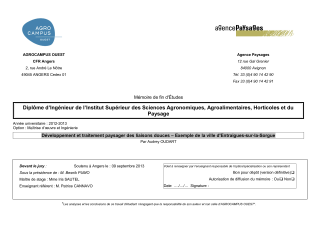 2013_Oudart_Audrey_Developpement_traitement_paysager_liaisons_douces.pdf (6.29 Mo)
Télécharger le fichier