La mise en place de la gestion différenciée des espaces verts de la Ville de Chalon-sur-Saône
It's in 1994, during the Strasbourg's conference that the notion of differentiated management appeared through the emergence and gathering of ideas and experience in environmental management of green spaces. Today, the town of Chalon-sur-Saône cares about its environment, wants to implement differentiated management of green spaces in order to reach goals of optimizing various means of service and environmental aspects. This report will give prominence to the key elements of service study to assure sustainable implementation of this project such as: an inventory of green spaces through a system of geographical information in order to make a data exploiting, the classification of green spaces in class maintenance and maintenance ratios correlated with surfaces obtained through the inventory. Afterwards, we will observe the implementation of differentiated management to assess its impact on green spaces through a floristic inventory of wetland, due to a change of maintenance practice. The results show that this implementation should be prepared on the short-term and medium-term/mid-term, and that means many resources must be available and that its effects are beneficial on plant biodiversity of wetlands. Finally, we will discuss about the current resources available, and will have to be available in the future, to the city of Chalon-sur-Saône compared to other similar references.
C'est en 1994, lors du colloque de Strasbourg que la notion de gestion différenciée est apparue à travers l'émergence et le rassemblement d'idées et d'expériences en matière de gestion écologique des espaces verts. Aujourd'hui, la ville de Chalon-sur-Saône, soucieuse de son environnement, souhaite mettre en place la gestion différenciée de ses espaces verts dans le but de répondre à des objectifs en matière d'optimisation des différents moyens du service et d'aspects environnementaux. Ce mémoire va mettre en évidence les éléments clés du service pour assurer une mise en pratique pérenne de ce projet tels que : un inventaire des espaces verts via un système d'informations géographiques afin d'opérer à une exploitation des données, une classification des espaces verts en classe d'entretien puis l'établissement de ratios d'entretien corrélés aux surfaces obtenues grâce à l'inventaire, un état des lieux des moyens humains, matériels et financiers du service. Ensuite, on étudiera la mise en pratique de la gestion différenciée, pour observer ses impacts sur les espaces verts à travers un inventaire floristique sur une zone humide, suite à un changement de pratique d'entretien. Les résultats montrent que cette mise en place doit être préparée sur le court et le moyen terme avec la mise à disposition de nombreux moyens et que ses effets sont bénéfiques sur la biodiversité végétale. Finalement, nous discuterons des moyens mis à disposition et qui devront l'être dans le futur sur la ville de Chalon-sur-Saône par rapport à d'autres références similaires.
Fichier principal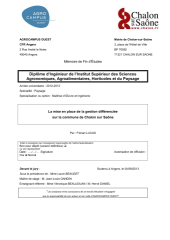 2013_Lucas_Florian_Gestion_differenciee_Chalon-sur-Saone.pdf (2.94 Mo)
Télécharger le fichier