Mise en œuvre de voies vertes dans le cadre d'une politique de planification territoriale multiniveaux : cas de Saint-Étienne Métropole pour l'intégration d'anciennes voies ferrées
In line with a sustainable development approach, greenways are traffic lane meant for nonmotorized transportation (pedestrians, cyclists, people with reduced mobility, rollerskates, eventually horse-riders). Known as safe and accessible place, these layouts can belong to touristic and recreational itineraries and also to daily communication network for local populations. The current development of greenways is the consequence of a growing interest of users but also of policy makers for the appearance of active transportation network. First of all, this study takes an interest in the integration of greenways in the territorial planning policies and, especially, in the position that can be devoted to in urban planning documents. This thought results in the creation of local overview for Pôle Métropolitain and Saint-Étienne Métropole areas. Then, the study focuses on the potential possibilities to establish greenways on former industrial railways on urban area of Saint-Étienne, suggesting a research method of these abandoned plots. The issue of conceivable development prospects for the promotion of regional industrial heritage is tackled.
S'inscrivant dans une démarche de développement durable, les voies vertes sont des axes de circulation destinés aux modes de déplacement non-motorisés (piétons, cyclistes, personnes à mobilité réduite, rollers voire cavaliers). Reconnues pour leur accessibilité et leur sécurité, ces aménagements s'intègrent autant dans des itinéraires de tourisme et de loisirs que dans des réseaux de déplacements quotidiens des populations locales. Le développement actuel des voies vertes est la conséquence d'un intérêt croissant des usagers mais aussi des pouvoirs publics pour l'émergence de réseaux modes doux de circulation. Tout d'abord, cette étude s'intéresse à l'intégration des voies vertes dans les différentes politiques de planification territoriale et, en particulier, à la place qui peut leur être consacrée dans les documents d'urbanisme. Cette réflexion aboutit à l'élaboration d'un état des lieux du cadre d'étude, à savoir les territoires du Pôle Métropolitain et de Saint-Étienne Métropole. Par la suite, l'étude se focalise sur les possibilités éventuelles d'implanter des voies vertes sur d'anciennes voies ferrées industrielles sur l'agglomération de Saint-Étienne, en proposant une méthodologie de recherche de ces emprises délaissées. La question des perspectives d'évolution envisageables pour une mise en valeur du patrimoine industriel de la région est alors abordée.
Fichier principal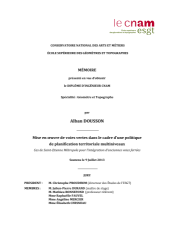 DOUSSON_Alban.pdf (19.23 Mo)
Télécharger le fichier
Plaquette-Annexe10.pdf (4.9 Mo)
Télécharger le fichier