Comment évaluer la durabilité et juger de la qualité de la gestion alternative des eaux pluviales ?
In recent years, stormwater management has deeply changed. Conventional technologies are trimmed back in favour of alternative methods. More ecofriendly, integrating people in new landscapes, they appear as an answer to sustainability issues. In the year 2013, more and more projects integrating these new techniques are launched in France. This new way of thinking a project leads to many questions: what characterizes these technologies? Are they synonym of sustainability? How to evaluate them and assess their quality? This report attemps to answer these questions, presenting the different kinds of methods, analizing projects integrating this new management and offering a new assessment tool called RGA (Radar de la Gestion Alternative).
Depuis quelques années, la gestion des eaux pluviales rencontre une profonde mutation. Les techniques classiques laissent progressivement la place aux techniques alternatives. Plus respectueuses de l'environnement, intégrant les habitants dans de nouveaux paysages, elles apparaissent comme une réponse aux enjeux du développement durable. En cette année 2013, de nombreux projets intégrant les techniques alternatives de gestion des eaux pluviales fleurissent à travers la France. Ce mode encore jeune fait émerger les questions suivantes : qu'est-ce qui caractérise ces techniques ? Ces techniques sont-elles durables ? Comment évaluer ces techniques et juger de leur qualité ? Ce mémoire tente d'apporter une réponse à ces questions en présentant les différentes techniques alternatives, en analysant des opérations intégrant cette nouvelle gestion et enfin en proposant un outil d'évaluation, le RGA, (Radar de la Gestion Alternative).
Fichier principal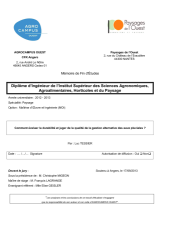 Tessier_Luc_Gestion_alternative_eaux_pluviales.pdf (8.6 Mo)
Télécharger le fichier