La requalification des centres anciens : entre situations, outils et volontés politiques
French town centres are less and less attractive, this is mainly due to unsuitability for lifestyles and current needs. Today, they often are characterized by disrepaired buildings, vacant accommodation, a trade loss and are subject to squalors. Although, these town centres have an interesting history and a rich architecture, the image of centres often is pejorative. Faced with the urban spreading and population needs, requalification of town centres becomes an obvious stake for local authorities. Tools and procedures are available in order to restore and enhance centres. Although it's necessary to know it and known how to use it, in order to treat at best present situations, according to political wills and abilities of local authorities. So as to guide local authorities in their choices, this study deals with tools and particularly OPAH-RU and ORI. Moreover, this paper deals with common situations in town centres thanks to examples, and introduces how to treat it. A report and optimizing strategies are reported in the last part.
Les centres anciens des villes françaises sont de moins en moins attractifs, cela est principalement dû à l'inadaptation des centres aux modes de vie et besoins actuels. Ils sont aujourd'hui souvent caractérisés par un bâti dégradé et vacant, un pôle commercial en perte de vitesse et sont sujets à des situations d'insalubrité. Bien que forts d'un passé historique et d'une architecture riche, l'image renvoyée des centres est souvent péjorative. Face à la lutte contre l'étalement urbain et aux besoins des populations, la requalification des centres anciens des villes devient un enjeu évident pour les collectivités. Des outils et des procédures sont à leur disposition pour restaurer et améliorer ces quartiers. Mais encore faut-il les connaître et savoir les choisir pour pouvoir traiter au mieux les situations rencontrées, en fonction des volontés politiques et des capacités des communes. Afin d'orienter les collectivités dans leurs choix, le présent mémoire s'intéresse à ces outils et plus particulièrement aux OPAH-RU et aux ORI. De plus, en s'appuyant sur des exemples concrets ce mémoire présente des situations couramment rencontrées sur les centres et des manières de les traiter. Un bilan et des stratégies d'optimisation sont rapportés en dernière partie.
Fichier principal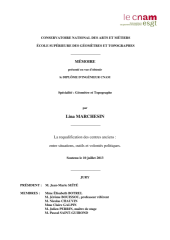 MARCHESIN_Lina.pdf (2.35 Mo)
Télécharger le fichier
annexes.pdf (53.89 Mo)
Télécharger le fichier