Photographie et récit de voyage : regards pluriels sur les voyages de Freya Stark en Orient
This work analyses one of Freya Stark's first travel book, The Valleys of the Assassins, and studies at the same time a few of the photographs she took during her travels in Orient. This paper studies the influence of western culture and in particular of orientalism and colonialism over the way the author adresses the Orient and travel in general. It considers the text in details in order to draw conclusions from it about th way Freya Stark communicates her experiences in both the text and the photographs. This study aims to problematize the idea of « gaze » or gazes which are those we have on travel in general and those conveyed by the text and the photographs.
Ce mémoire traite d'un des premiers récits de voyage de Freya Stark, The Valleys of the Assassins, et étudie aussi un certain nombre de photographies prisent par l'auteur durant ses voyages. Il étudie l'influence de la culture occidentale et en particulier de l'orientalisme et du colonialisme sur la façon dont l'auteure aborde l'Orient et plus largement le voyage. Ce mémoire étudie de manière détaillé le texte afin d'en tirer des conclusions sur la façon dont la voyageuse aborde l'Autre et l'Ailleurs dans ses voyages et la façon dont elle transmet son expérience à travers le texte, puis la photographie. Cette étude a pour problématique centrale la question du regard, ou plutôt des regards, qui sont ceux que nous posons sur le voyage, et ceux que l'auteure nous transmet par le récit et la photographie.
Fichier principal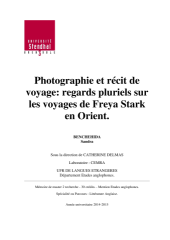 BENCHEHIDA_Sandra_M2R_Etudes_anglophones_2015.pdf (4.25 Mo)
Télécharger le fichier