La forme urbaine et la justice spatiale dans le renouvellement urbain
The aim of this study is to bring to the foreground the notion of the inseparable nature of the social and spatial aspects of urban planning, coupled with a vision of urban renewal as an essential solution for the development of cities today. This vision gives rise to a graphic study and critical examination of the relationship between urban form and spatial justice in a neighborhood subject to France's urban renewal project for disadvantaged areas, Renaudie-Champberton-La Plaine in Saint-Martin-d'Hères, in order to evaluate what types of urban forms are capable of furthering spatial justice.
L'objectif de ce travail est de mettre au premier plan la notion de l'inséparabilité des deux aspects social et spatial de l'urbanisme, couplée avec l'idée de l'importance ultime du renouvellement comme mode opératoire de nos urbanisations aujourd'hui. Après une discussion des travaux théoriques déjà menés sur le sujet et une analyse des politiques mises en place, on propose une étude graphique et critique de la relation entre la forme urbaine et la justice spatiale dans un quartier sujet de la politique de la ville, Renaudie-Champberton-La Plaine, à Saint-Martin-d'Hères. On tente finalement de déterminer quelles sont les formes urbaines propices à la justice spatiale.
Fichier principal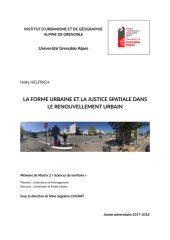 Helfrich_mémoire_M2UPU.pdf (13.84 Mo)
Télécharger le fichier
Origin : Files produced by the author(s)