Points de vue des adolescents garçons sur le « travail de l'apparence » sur les réseaux sociaux
This study focuses on the corporal socialization of adolescent boys aged 15 to 20 and analyses the place of social norms of feminity and masculinity in representations of the adolescent body on social networks. The survey is based on an ethnographic approach combining participant observation (mainly at a first high school), thirteen comprehensive individual interviews (with student at a second high school) and a group interview at the respondent's family home with two of his friends. We explore the construction of adolescent male identity, with an emphasis on the analysis from the point of view of the work of male and female appearance. We thus reveal how young boys understand and appropriate gendered models, and how they construct themselves within social networks. The thematic analysis shows that the social representations of male respondents on the work of appearance are both sexually differentiated and variable within each gendered group.
Ce travail porte sur la socialisation corporelle des adolescents garçons âgés de 15 à 20 ans et analyse la place des normes sociales de féminité et de masculinité dans les représentations sur la mise en scène du corps adolescent sur les réseaux sociaux. L'enquête s'appuie sur une démarche ethnographique combinant observation participante (principalement au sein d'un premier lycée), treize entretiens compréhensifs individuels (avec des élèves d'un second lycée) et un entretien de groupe au domicile familial d'un enquêté avec deux de ses amis. Nous explorons la construction identitaire masculine adolescente, en mettant l'accent sur l'analyse du point de vue porté sur le travail de l'apparence masculin et féminin. Nous révélons ainsi comment les jeunes garçons appréhendent et s'approprient les modèles sexués, et la manière dont ils se construisent dans le cadre des réseaux sociaux. L'analyse thématique montre que les représentations sociales des enquêtés garçons sur le travail de l'apparence sont à la fois sexuellement différenciées et variables à l'intérieur de chaque groupe sexué.
Fichier principal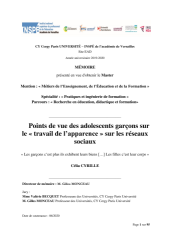 Mémoire Célia CYRILLE-fusionné.pdf (2.81 Mo)
Télécharger le fichier
Origin : Files produced by the author(s)